A Victoria man accused of trapping three baby raccoons and leaving town has been charged with animal cruelty.
Crown counsel charged Dieter Hartmetz under the Prevention of Cruelty to Animals Act after BC SPCA staff found the animals injured and dehydrated inside a cage July 24.
"Two of the raccoons had injuries to their mouths as a result of trying to bite through the cage to get free and all of them were dehydrated due to a lack of food and water," said special constable Lynsay Bailey.
Hartmetz had left the trap unattended while he was out of town for five days. Bailey rescued them after they had been in the trap for two days.
The raccoons were transported to the BC SPCA's wildlife rehabilitation centre, Wild ARC, in Metchosin, where they underwent five weeks of care and rehabilitation. Finally able to survive on their own, they were released Sept. 7 in Jordan River.
The cost of their care, at $75 per raccoon per week, is estimated at $1,125.
"That's money that could have gone toward spay/neuter, sheltering, medical care and other cruelty investigations," says Bailey.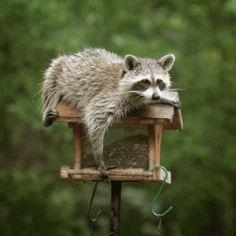 Bailey says it isn't illegal to trap raccoons who are on your property, however, under the Wildlife Act live traps must be monitored and emptied at least once every 24 hours.
The charge against Hartmetz was accepted under the PCA Act because once in the trap, the raccoons were considered to be in captivity, and the PCA Act covers captive wild animals.
"These raccoons suffered considerably in the trap," said Bailey.
"The wiser decision would have been to contact a humane removal company, and to make sure your property isn't so inviting to raccoons in the first place by keeping garbage lids tight and sealing up any areas that could be used as a den."
The BC SPCA Wild Animal Rehabilitation Centre (Wild ARC) is the only facility of its kind on southern Vancouver Island. Your gift can help more than 2,000 injured, orphaned or sick wild animals just like these baby raccoons, receive shelter, medical care and protection. Please donate today.
Photo caption: The raccoon is one of many types of urban wildlife who can live harmoniously with humans when proper precautions are taken prevent them from moving in or wanting to stay.
(The raccoon shown above is for illustrative purposes only, and is not one of the animals involved in this cruelty investigation.)
The British Columbia Society for the Prevention of Cruelty to Animals is a not-for-profit organization reliant on public donations. Our mission is to protect and enhance the quality of life for domestic, farm and wild animals in B.C.