Just one look at her face melts the heart. Maggie, a three-year-old bulldog at the Victoria BC SPCA Branch, is quickly charming staff and volunteers with her huge grin and lovable personality. Because she requires extensive medical treatment, Victoria SPCA staff are hopeful the public can help Maggie get the care she needs.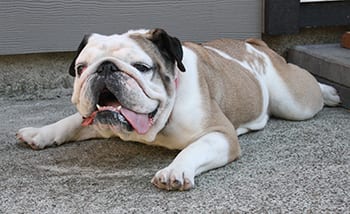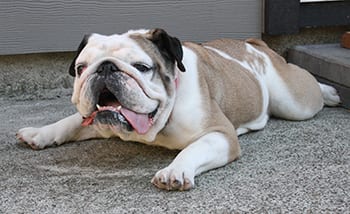 "Maggie is such a sweetheart! She's a total chair hog with her tongue always out," says Victoria BC SPCA Branch manager Annie Prittie Bell. "Unfortunately, she has several medical issues that will need to be addressed before she can be placed for adoption, including numerous ear and eye issues as well as a possible hernia."
The winsome canine likely also needs soft palate surgery and her nasal cavity (nares) opened up, Prittie Bell says, noting that Maggie's medical conditions are often common among the bulldog breed.
"Maggie is such a total doll! We just want her to have the chance to live a long and healthy life in a loving, forever home," she says. "She's got a lot of love to give, and it's impossible not to love her sweet face."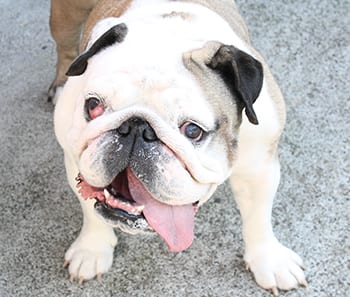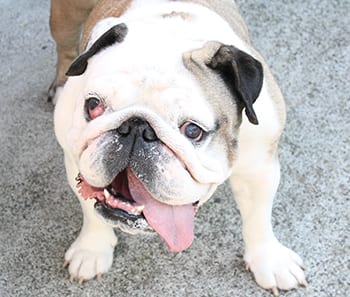 After her surgeries and rehabilitation and recovery, Maggie will be available for adoption. The total cost for her medical care is expected to be more than $10,000. A non-profit organization, the BC SPCA relies primarily on public donations to carry out its life-saving work in helping the provinces most vulnerable animals.
If you can help Maggie and other animals like her in need at the Victoria SPCA, you can donate online at spca.bc.ca/medicalemergency or in person, at 3150 Napier Lane, Victoria.
The British Columbia Society for the Prevention of Cruelty to Animals is a not-for-profit organization reliant on public donations. Our mission is to protect and enhance the quality of life for domestic, farm and wild animals in B.C.