She wags her tail so hard that sometimes, she injures herself. Nugget, a lovable fawn-coloured mastiff mix, came into care at the BC SPCA Vernon & District Branch with two torn cruciate ligaments in her back legs.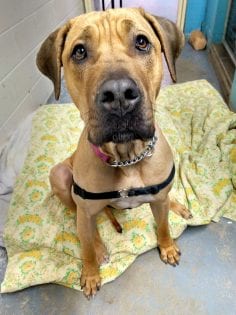 A painful condition, it affects Nugget's ability to walk and without treatment, will lead to arthritis in her joints.
"Nugget is such a sweet and goofy girl! Despite the pain she's in, she just wants to love you and be loved – we now keep her tail bandaged, as she has hurt it a couple of times while in her kennel from wagging it so hard," says BC SPCA Vernon & District Branch manager Chelsea Taylor.
"She thinks she's a 100-pound lap dog! We just want her to have the chance to lead an active, healthy life – she's not even two yet and still has a lot of love to give."
The medical costs associated with Nugget's surgery, care and recovery are expected to exceed $9,000. A non-profit organization, the BC SPCA relies primarily on public donations to help the province's most vulnerable animals.
If you can help Nugget and other animals like her at the Vernon SPCA, visit spca.bc.ca/medicalemergency or in person, at 4800 Haney Rd., Vernon.