The BC SPCA is expressing strong disappointment in the light sentence given to Armstrong residents Sandra and Jim Tullett after the couple was convicted of animal cruelty in a Vernon court this week.
On July 16, 2008, BC SPCA animal cruelty investigators seized several animals from a roadside petting zoo north of Vernon that was being operated by the couple. "There were hundreds of animals on the site and we issued numerous orders for the Tulletts to improve conditions for the animals," said Const. Kathy Woodward, senior animal protection officer for the BC SPCA. "Despite these orders, we determined on a followup visit that several animals were in distress and obtained a warrant to seize them." Constables took two pot-bellied pigs, two turtles and a fennec fox into custody and issued additional orders to improve conditions for many of the remaining animals on the property.
On Aug. 31 the Tulletts were found guilty of animal cruelty and sentenced to a $250 fine each, six months probation and were allowed to keep all of the animals currently in their care. "They have a large number of animals, including horses, cats, sheep, goats, chickens, ducks, ferrets, exotic birds and a dog," said Woodward.
In addition to the lack of consequences for the couple, Marcie Moriarty, general manager of cruelty investigations, said the light sentence places further strain on the BC SPCA's limited resources.  "Our cruelty investigations work is funded entirely by donations and we have already spent numerous hours issuing orders and making follow-up visits to ensure that the Tulletts are taking proper care of their animals," she said.  "The court has allowed them to keep large numbers of animals, which means the BC SPCA will have to expend additional resources to monitor the situation so that further neglect does not occur. "
The pot-bellied pigs seized by the BC SPCA in the Tullett case were suffering from a number of welfare issues, including badly overgrown hooves and untreated eye infections.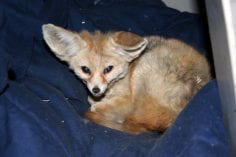 The fennec fox, a small desert dweller native to the Sahara, was kept in a poorly lit and poorly ventilated enclosure and was in poor health.
"He was extremely thin, appears to have internal parasites, and was exhibiting abnormal behaviour, such as a constant shaking of the head," said Woodward.  Normally found in social groups, the fox was housed alone in an isolated enclosure.  
The seized turtles were being kept in a filthy aquarium with no filtration system. The water in the murky aquarium was deep and there were no perches for the turtles to rest upon to enable them to breath above the water.
You can help support our animal protection officers and the entire BC SPCA Cruelty Investigations Department by supporting the Heroes Fund for Animal Protection. Please donate today.
The British Columbia Society for the Prevention of Cruelty to Animals is a not-for-profit organization reliant on public donations. Our mission is to protect and enhance the quality of life for domestic, farm and wild animals in B.C.
Photo caption: This fennec fox was in poor health when seized from a roadside zoo near Vernon in 2008.