Warning: graphic photos below.
Langley veterinarian Mark Marohn was found guilty today of animal cruelty under both the Criminal Code of Canada and the Prevention of Cruelty to Animals Act after the BC SPCA discovered six emaciated and badly neglected horses in his care. Marohn was charged in April of 2009.
In December, 2008, BC SPCA cruelty investigators were called to the 2000-block of 208th Avenue where a seven-year-old gelding was tethered to Marohn's sedan and was being used to pull the car from a ditch. The young horse, who was severely emaciated, exhausted and unable to stand, was in critical distress and had to be humanely euthanized at the scene.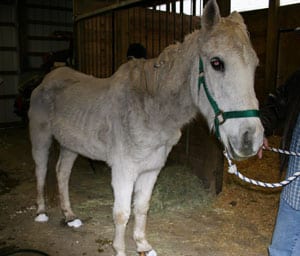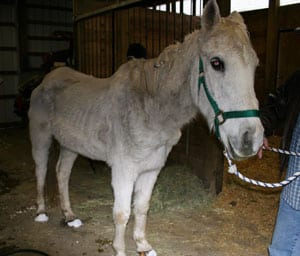 "It was terribly upsetting for all the investigators involved," said SPCA senior animal protection officer Eileen Drever. "We thought he might have a chance when he tried to stand a couple of times but he just couldn't muster the strength."
That same day BC SPCA cruelty investigators discovered an additional five horses on Marohn's property and took them into care. The horses were also emaciated, and despite round-the-clock care and veterinary treatment, one of the rescued horses died four days later. The surviving four horses – Jock, Chewy, Lexi and Misty – underwent months of rehabilitation and treatment while in SPCA custody and were adopted into loving homes in May 2009.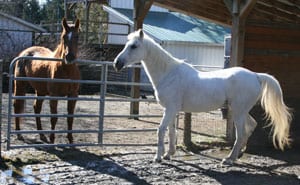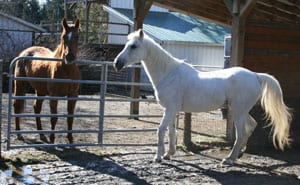 Marohn could face a sentence of up to five years in jail, a maximum $5,000 fine and a prohibition on owning animals.
Photo caption: (top) Misty, before rehabilitation
Photo caption: (bottom) Lexy (left) and Misty (right), after rehabilitation
The British Columbia Society for the Prevention of Cruelty to Animals is a not-for-profit organization reliant on public donations. Our mission is to protect and enhance the quality of life for domestic, farm and wild animals in B.C.