A Knutsford resident facing three counts of animal cruelty charges under both the Criminal Code of Canada and the Prevention of Cruelty to Animals Act is now facing further charges after breaching the conditions of her bail.
In 2009 the BC SPCA seized 26 Great Danes and six cats from Haughton after determining the animals to be in distress.  A Kamloops judge allowed the animals to be returned to Haughton in April, 2010 but set out a number of conditions for their return while the accused awaited trial.
Carol Haughton was arrested earlier this month after BC SPCA special constables discovered she was continuing to breed animals and still had puppies from the initial 2009 investigation in her care, both of which violate the bail conditions set out last year.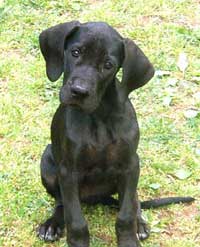 "During an inspection of her property on June 29, 2010, we not only discovered a pregnant female, which the accused admitted to having intentionally bred, but we also found several other intact males being housed with females of breeding age," said BC SPCA special constable Jamie Wiltse.  "Haughton had been ordered by the court not to breed any dogs that would result in litters of puppies being born on her premises until after the charges had been dealt with."  She notes that Haughton was also ordered by the court to sell or transfer the puppies who were in her care at the time of the seizure.  "One of those dogs, a black and white male named Hugo, was still in her care," says Wiltse. "He was in very poor body condition, with ribs and hips protruding."
In addition to the two breaches of her bail conditions the BC SPCA identified a number of serious animal welfare issues with Haughton's animals during the inspection.  Official orders were issued to clean the dirty areas where the animals were being kept, to supply potable drinking water at all times, to remove injurious objects from the animals' living areas and to separate male and female dogs to avoid breeding.
Haughton will be in Kamloops court on Sept. 10 to face charges from a previous incident and a trial date has been set for Feb. 11, 2011 for the new charges approved in 2010.
*Please note, the photo above is of a Great Dane puppy. Not an animal rescued from this investigation.
The British Columbia Society for the Prevention of Cruelty to Animals is a not-for-profit organization reliant on public donations. Our mission is to protect and enhance the quality of life for domestic, farm and wild animals in B.C.