A young kitten who was hit by a car needs a little help to live out the rest of his nine lives without pain.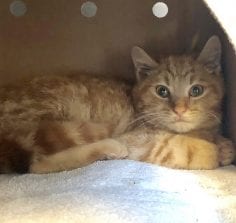 Tiny Turmeric, an eight-week-old ginger tabby brought in by a Good Samaritan after he was struck by a vehicle, needs to see a dental specialist to have three teeth, all broken to the root, removed.
"This poor guy came in with shattered teeth and a high fever," says BC SPCA Vancouver Branch manager Jodi Dunlop. "He's on pain medication until his teeth can be removed and also on antibiotics for the fever, but despite all of that and everything that he's been through, he's still such a sweetheart."
The costs associated with Turmeric's medical care are expected to be $1,900. A non-profit organization, the BC SPCA relies primarily on public donations to carry out its life-saving work helping the province's most vulnerable animals.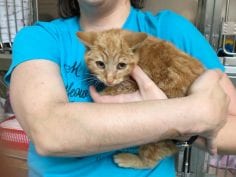 "We just want this brave little guy to have the chance to be an active, healthy kitty who finds his forever home with a loving family," Dunlop says.
If you can help Turmeric and other animals like him at the BC SPCA Vancouver Branch, you can donate online at spca.bc.ca/medicalemergency or in person at 1205 East 7th Ave., Vancouver.