In support of Million Acts of Kindness, Petsecure is donating $5 to the BC SPCA for every kind act completed in August (up to $30,000). Learn more and get tips for keeping pets healthy and happy:
Ensuring Your Peace of Mind
Missy may not be short for "mischievous," but she acts like it is! Missy is a cat with the playfulness and personality of a much younger kitten. Her guardian Sarah Martin, officer of data assets for the BC SPCA, says Missy has a lot of energy and curiosity but no sense of fear.
"She jumps on very high shelves, bangs around the house and sometimes leaves a trail of destruction in her wake!" Sarah says. "Even a daily hour of playtime isn't enough to tire Missy out."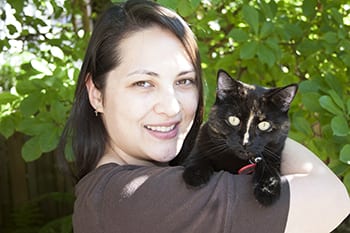 Sarah loves Missy's sense of adventure (and the sweetness that balances it out), but worries she might one day have an accident or become ill.
"Missy has had a few near misses, and I want to make sure she is healthy for a long time to come," she says.
As a responsible pet guardian, Sarah's top priority is keeping Missy healthy and strong. And she's no stranger to how much veterinary care can cost.
"My first cat cost me a lot. I called him my 'Thousand Dollar Kitty.' He was a stray I took in, and his first visit to the vet cost me over $1,000 because he had an abscess from being in a fight. And after that, it was his annual vet visits that added up."
So Sarah decided to get pet health insurance for Missy, and chose Petsecure insurance.
"Missy is the first pet for whom I have had insurance. It's comforting to know that if something were to happen, or if she were to get sick, that I can go to the vet knowing I have some coverage," Sarah says. "Luckily, she has been very healthy and only sees the vet for her annual shots. I am grateful I have not yet needed to use her insurance, but I'm glad to know it's there."
Pet health insurance was a new expense in Sarah's budget, but she found the monthly premium to be affordable, especially as she was able to set her own deductible.  If her circumstances change, Petsecure's flexible plans allow her the ability to adjust her coverage, so that her insurance continues to best fit her needs.
"Really all I want is peace of mind," says Sarah.  "If there was an emergency or if Missy became sick, the last thing I want to worry about is how to afford her care. I want to be able to focus only on her."
Ensuring You're Prepared for Vet Bills
One of the top reasons animals are surrendered to shelters is because owners cannot afford the cost of care involved.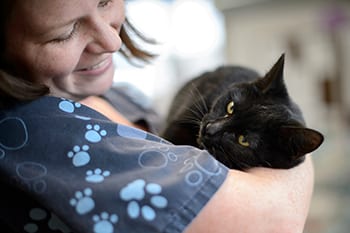 The BC SPCA averages the annual cost for a dog is $1,370 a year, and a cat is $976 each year. Add to that an unexpected accident or illness that requires surgery or medication, and that dollar amount grows very quickly. So does the number of pets surrendered to shelters.
Having a dog or cat is a big commitment, both emotionally and financially. Keep your furry family member by your side with these three tips on being prepared for veterinary bills:
Understand conditions that are common to your pet. Discuss your pet's breed, lifestyle and state of health with your veterinarian to fully understand what they may be predisposed to and potential costs.
Prevention is key. Be proactive and ensure your pet is seen by a veterinarian for an annual check-up. This will keep them up to date with vaccinations while catching problems before they get worse. Any issues left unchecked or untreated will cost you more in the long-run.
Get pet health insurance. Every dog and cat adopted from the BC SPCA comes with a complimentary six-week trial of Petsecure. Continuing with a Petsecure plan provides higher coverage for accidents and illnesses, along with coverage for dental care, alternative treatments, behavioural therapy, and medical devices. Petsecure provides peace of mind.
Being prepared for vet bills will help reduce the number of pets abandoned in shelters, and ultimately keep families together.
Find out more about Petsecure at www.petsecure.com or call toll free at 1-800-268-1169.
Ensuring a Safe Ride for your Pet
There's no denying that most dogs love to ride in the car. But whether your dog likes to accompany you for a drive or not, pet guardians should take the proper precautions to make sure they're safe.
Be prepared for accidents. Hopefully, you and your pet will never be in a car accident, but it can happen. In the event that your pet does get injured in a car or otherwise, having a Petsecure plan in place will ensure they're protected with accident coverage. With four plans to choose from, there are different levels of coverage available to suit your needs.
Make sure your pet is always restrained. It's the same as humans with seatbelts. If you're in an accident and your car suddenly stops, you and your pet will be jerked forward, possibly resulting in a serious or fatal injury.
Never let your pet ride in your lap. If you were in an accident and the airbags were deployed, he or she could be crushed between you and the airbags. One option is to keep your pet in a secured crate or kennel. Seatbelt harnesses are another option, letting you strap your dog into a passenger seat using your standard seatbelt.
Never let your pet ride in the back of a pickup truck. A quick stop could send them out onto the street or into traffic. And if something like a squirrel catches his eye, he could easily jump out, even if your truck is moving at a fast pace.
Make sure your pet is restrained appropriately to prevent heartbreaking accidents, and have pet health insurance in case an accident does happen. Find out more about Petsecure at www.petsecure.com or call toll free at 1-800-268-1169.
Ensuring Your Pet's Health in Hot Summer Weather
The summer heat can be difficult for anyone to deal with. Imagine how it must feel if you're wearing a fur coat!
Extreme heat can be dangerous to dogs and cats, just as it is with people. If you're ever worried about your pet's condition in hot weather, it's always best to contact your veterinary hospital or emergency clinic. With a Petsecure plan, you can rest assured that if your pet does get ill from the heat, you're protected with illness coverage.
Summer is most people's favourite season to be outside, which means a lot of playtime with pets, but there are some things that need to be taken into consideration.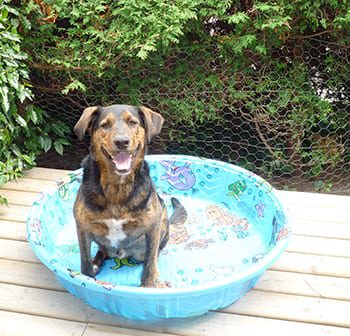 Cats and dogs need access to water at all times during the summer, and they also need to take shelter from the heat, so it's best to keep their exercise times to mornings and evenings when it's a little cooler, and the sun isn't bearing down quite so hard.
Never leave an animal inside a vehicle for any length of time. Cracking open a window does not cool down a car and temperatures quickly reach levels high enough to seriously harm or even kill your pet. If you see a pet in a car who you believe may be in trouble, contact your local animal services or police department.
To identify heat stroke, watch for your pet becoming anxious, panting with a bright red tongue, drooling, and unsteadiness which will eventually result in the pet being unable to stand or respond.
What to do if you see a dog in distress in a parked vehicle:
Note the license plate and ask managers of nearby businesses to page the owner to return to their vehicle immediately;
Call for emergency assistance – BC SPCA abuse hotline (1-855-622-7722) or local animal control authorities.
Keep emergency supplies – bottled water, a small bowl, a towel that can be soaked in water – in your car so that you can help hydrate an animal (if a window has been left open) while you wait for emergency response;
Be an advocate! Help spread the word that pets and hot vehicles are a fatal mix. Contact the BC SPCA for a #HotPetsNotCool decal for your vehicle and download posters and other materials at spca.bc.ca/hotpets to put up in malls and other areas in your community where pets are left unattended in vehicles.
Symptoms of heatstroke in pets:
Exaggerated panting (or the sudden stopping of panting)
Rapid or erratic pulse
Salivation
Anxious or staring expression
Weakness and muscle tremors
Lack of coordination, convulsions
Vomiting
Collapse
If your pet shows symptoms of heatstroke:
Immediately move the animal to a cool, shady place
Wet the dog with cool water
Fan vigorously to promote evaporation. This will cool the blood, which reduces the animal's core temperature
Do not apply ice. This constricts blood flow, which will inhibit cooling.
Allow the animal to drink some cool water (or to lick ice cream if no water is available)
Take the animal to a veterinarian as soon as possible for further treatment
Protecting your pet with pet health insurance can ease your mind and allow you to have more fun with your pet this summer. Find out more about Petsecure at www.petsecure.com or call toll free at 1-800-268-1169.
The British Columbia Society for the Prevention of Cruelty to Animals is a not-for-profit organization reliant on public donations. Our mission is to protect and enhance the quality of life for domestic, farm and wild animals in B.C.