If you go out in the woods today, running into a bear may not be a picnic. Since British Columbia is home to both black and grizzly bear populations, human-bear encounters are becoming a normal occurrence as urban centres expand into regions once occupied by only wildlife. The key is to reduce potential conflicts with our wild neighbours, says BC SPCA chief scientific officer Dr. Sara Dubois.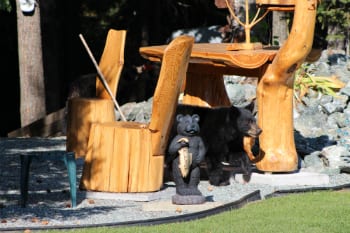 "There is potential for conflict whenever bears are drawn into urban areas by human food," she says. "Over time, bears may lose their natural fear of humans and actually come to associate people with food – with serious consequences. "
Hundreds of 'problem' bears are destroyed by B.C. conservation officers every year, she notes, as they look for food and often find exactly what they need in compost piles, garbage bins, fruit trees, bird feeders and pet food.
Dubois says conflict can be reduced by following these tips:
Keep garbage and recycling secured in the house, garage or shed until pick-up day;
Clean garbage and recycling bins regularly;
Pick up ripe and fallen fruit from trees and bushes daily;
Harvest garden vegetables as they ripen;
Clean barbecue grills after each use, and store barbecues in a secure area;
Bring pet food dishes inside;
Cover kitchen scraps in the compost with dry leaves or dried grass clippings;
Avoid overloading the compost with fruit waste by freezing it and adding it gradually;
Turn compost regularly, and keep compost bins covered;
Work with neighbours to create a bear-aware neighbourhood
While some bears might be relocated, Dubois says this is often not a humane or effective solution, as the bear may return to where they came from, and translocation is hard on the bears themselves.
"Translocation is, at best, a short-term solution to human-bear conflicts, and is far from being a positive choice from an animal welfare standpoint," she says. "The key is to change our own behaviour and prevent bears from gaining access to human foods in the first place. People need to learn to coexist with bears to help make B.C. a safe place for ourselves and for our wild neighbours."
She encourages people to help reduce conflicts with education, and to help spread the word with the BC SPCA's bear door hanger, that can easily be ordered by contacting the BC SPCA.
For more information and links to other organizations and government resources, visit spca.bc.ca/bears.
Photo by Heather Bazinet
The British Columbia Society for the Prevention of Cruelty to Animals is a not-for-profit organization reliant on public donations. Our mission is to protect and enhance the quality of life for domestic, farm and wild animals in B.C.