A Kamloops man has been banned from owning animals for five years after failing to provide veterinary care for his injured five-week-old pomeranian puppy.  William Wallace was charged with animal cruelty in 2010 and was sentenced last week following a BC SPCA investigation into the case.
Wallace was also fined $250 and ordered to pay $558 in restitution to the BC SPCA for costs incurred in the dog's care.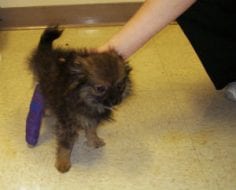 The plight of Toni, the tiny Pomeranian puppy, came to the SPCA's attention after Wallace called the BC SPCA Spay/Neuter Clinic in Kamloops to say his puppy was injured and was not bearing weight on her rear right leg.
An SPCA officer attended the home and was shown the injured dog but Wallace refused to cooperate in seeking urgently needed veterinary care for the puppy.
The SPCA executed a warrant to take custody of Toni, who was rushed to a veterinarian for treatment of a painful broken leg. She has made a full recovery and has since been adopted into a new, loving home.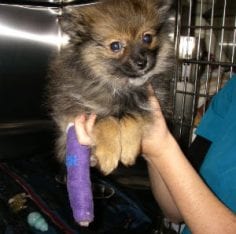 "We are very pleased with the outcome of this case," said Kent Kokoska, senior animal protection officer for the BC SPCA. "We believe the sentence is appropriate and makes a clear statement that it is not an option for pet owners to withhold veterinary care for their animals."
Last year the BC SPCA conducted nearly 7,000 cruelty investigations and found new, loving homes for nearly 19,000 abused, neglected and homeless animals. Your gift can help animal protection officers rescue animals in need and bring their abusers to justice. Please donate today.
Photo caption: Toni, a tiny pomeranian puppy, suffered a badly broken leg. Her former owner failed to provide veterninary care and is banned from owning animals for five years.
 The British Columbia Society for the Prevention of Cruelty to Animals is a not-for-profit organization reliant on public donations. Our mission is to protect and enhance the quality of life for domestic, farm and wild animals in B.C.