A B.C. Supreme Court judge has ruled in favour of the BC SPCA in a dispute over the seizure of 28 thin and emaciated horses and 39 terrier mix dogs and puppies last year. The BC SPCA seized the animals following an animal cruelty investigation on a property near Vernon.
"The animals were clearly in distress and the accused made little to no attempt over the course of several months to relieve their suffering," said Marcie Moriarty, general manager of cruelty investigations for the BC SPCA. "We issued a number of orders to improve their care, and instead the animals continued to decline."  The animals have been in SPCA care since September 2009.
In December 2009, Crown counsel approved multiple charges of animal cruelty against Carla Christman under the Prevention of Cruelty to Animals Act and the Criminal Code. Christman was also charged with obstruction and assault on a peace officer.
"Christman brought forward an application to dispute the SPCA's handling of the case, but in a judgment this week Madam Justice Ker concluded that the search warrant was properly issued and that the BC SPCA acted appropriately in seizing the horses and dogs," said Moriarty. "Madame Justice Ker also ruled that the decision of the BC SPCA not to return the horses and dogs was reasonable. As a result we are now able to adopt out the animals to loving homes."
Individuals interested in adopting the terrier mix dogs are invited to visit the adoptable animals search to view these animals at the Vernon, Kelowna and Shuswap branches.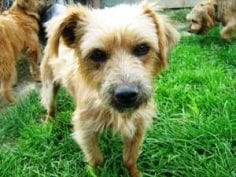 The British Columbia Society for the Prevention of Cruelty to Animals is a not-for-profit organization reliant on public donations. Our mission is to protect and enhance the quality of life for domestic, farm and wild animals in B.C.
Photo captions: Australian terriers seized by SPCA investigators from Carla Christman's property.