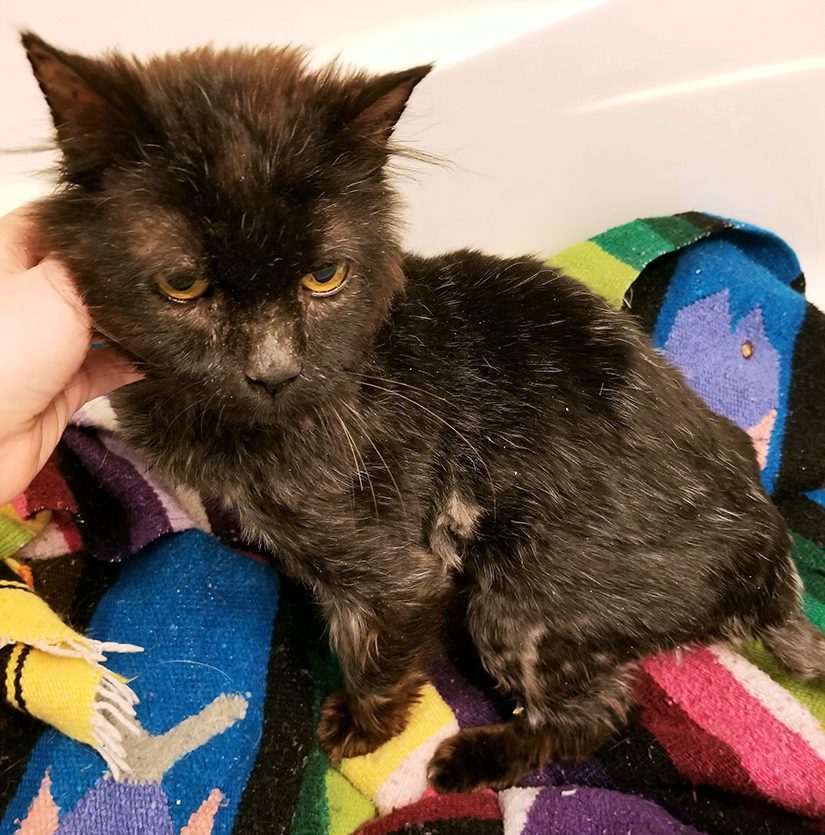 Jack was brought to the SPCA in September by the Good Samaritans who found his weak little body and knew he needed help. Staff at the SPCA's West Kootenay Animal Centre took Jack to the vet, who gave him a Body Condition Score (BCS) of 1, which is extremely emaciated.
"There was not much to him," says West Kootenay Animal Centre Branch manager Danielle Jackman. "Jack was so frail and he could barely lift his head." This 12-year-old cat stayed in emergency care at the vet for a few days and staff were worried that he wouldn't survive.
Jack's condition slowly began to improve and he started eating more. One of the veterinary technicians volunteered to take care of him and fostered him at home for about a month. His matted fur was shaved off and he had oral surgery to extract several damaged teeth. Poor Jack was having diarrhea and was given different foods to find a diet that would work best for him.
When he was well enough, Jack left the foster home and came to the West Kootenay Animal Centre, where staff hoped someone would want to adopt him. He was still a bit skinny, with a BCS of 3 and his fur was growing back in patches. He tugged at the heartstrings of SPCA animal care attendant Brenna Kelly, who noticed Jack hiding in the corner during her morning rounds. "He had a rat-like tail with a puff of fur on the end and a patchy shave job from needing to have mats removed, she recalls. "His face and ears were littered with scars."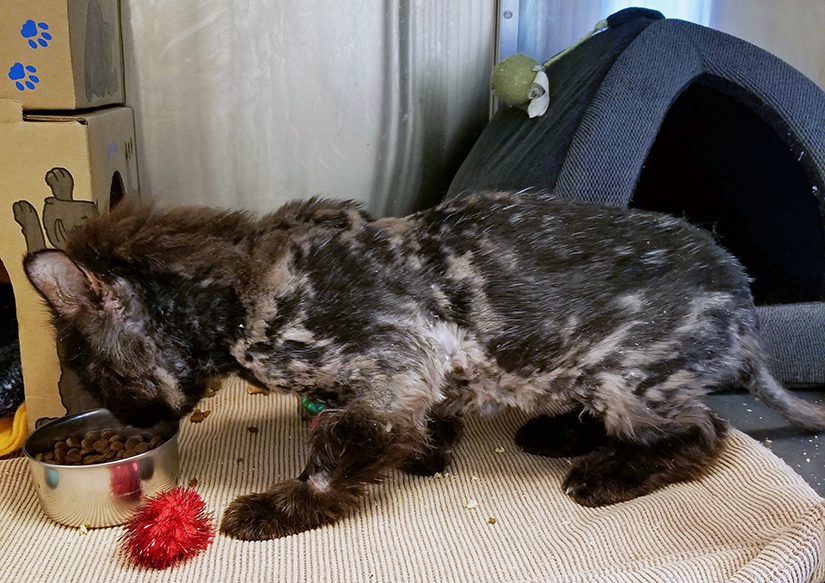 She started spending more time with Jack, sitting quietly in the room with him. Jack eventually started purring when he saw Kelly and would come out from his hiding space to sit on her lap. "Even though he has a permanent scowl on his face and one eye that doesn't open as much as the other I could tell he was happy to see me," she says.
It was clear that Jack had lived outdoors for his entire life and was not used to receiving a lot of attention. This senior cat would need a special diet and a home without any small children.
The SPCA held a half-price adoption event in October, which brought lots of people into the branch looking for a pet but sadly, Jack was one of two cats left without a home at the end of the day. "All the 'prettier' cats got adopted. I saw poor Jack get passed over time and time again," says Kelly. "Who would want the old, grouchy looking cat that doesn't come out to say hello and has chronic diarrhea? Well I guess the answer is me. Something about adopting Jack just felt right."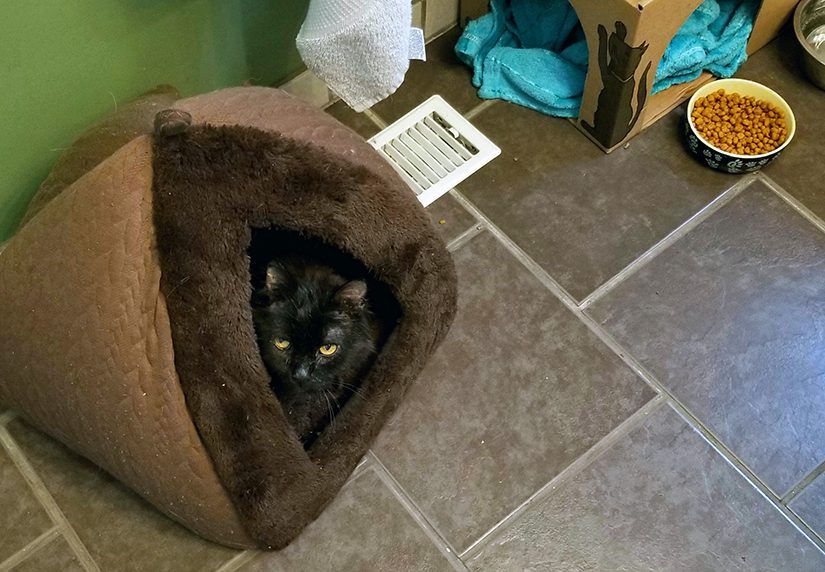 She decided to foster him and see if he would be able to get along with her dogs. At first, Jack hid under the bed but he had no issues with the dogs in the home. It has been a couple of weeks and Jack still doesn't venture far from the bathroom but he's growing more confident.
"Jack is loving his new life and there is a sparkle in his eyes. The dander is gone and his coat is growing back with an actual luster to it," Kelly says. "We're looking forward to seeing him improve even more."
Kelly is determined to give Jack a peaceful and happy life despite his needs for ongoing care. A follow up vet visit revealed that Jack has a bladder infection, will need another tooth extracted and has developed diabetes. She is taking each challenge Jack is facing one day at a time and has started him on antibiotics and insulin.
Her commitment to this senior cat that no one else wanted is truly heroic and Jack will continue to fight on to keep this loving and peaceful new life he's found.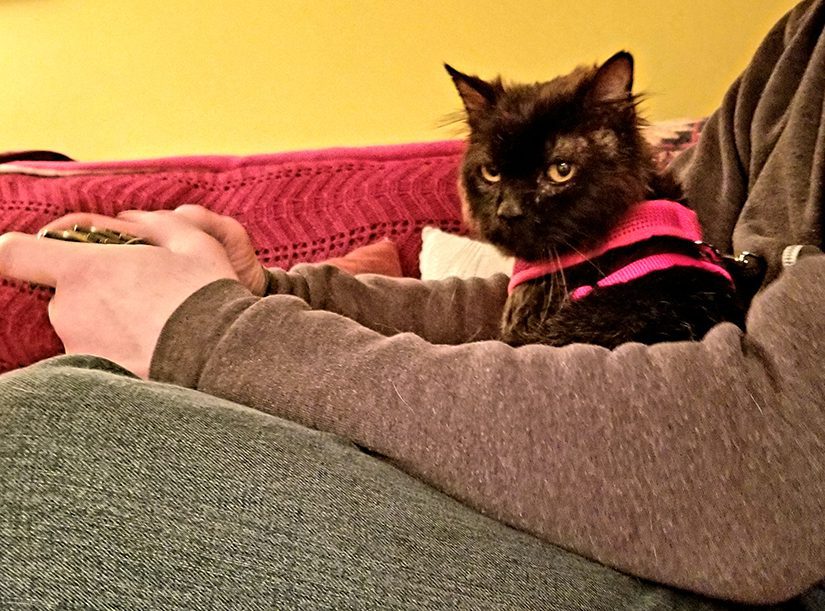 This homely senior cat was living outside in the cold and was on death's door when he came to the SPCA. The odds were stacked against him but Jack is a determined kitty, who has found the love and support he so desperately needed. He will spend the holidays safely indoors immersed in the love and care from his new family.
Senior cats like Jack often stay in care longer and have medical conditions requiring treatment. Your donations help the BC SPCA provide the extra care these older cats need to enjoy their golden years and help them find loving homes.