She wouldn't have survived without you.
Bryn's story may already be familiar to you. A little over a year ago, her previous owner was convicted of animal cruelty and sentenced to jail time for savagely beating her with a baseball bat.
How did Bryn survive such an ordeal?
She persevered by sheer will, but survived because someone, in fact, a lot of people, took a walk for her. They walked and it resulted in the events that would save her life:
The call at the toll-free Animal Helpline was answered
The special constable was dispatched  to investigate her case
Bryn received immediate veterinary care and was cared for during her long recovery
There was a full cruelty investigation including filing the recommended charges against her assailant
Eventually, she was adopted into her first loving home
The capacity, the organization, the budget, her survival – all because people like you took a walk in the park for a dog they never knew.
Every year, thousands of animal-lovers come together for the Scotiabank & BC SPCA Paws for a Cause walk to fight animal cruelty because they know it takes more than just talking about animal cruelty and loving your own pets. It takes the courage to join up and raise funds for animals like Bryn.
She couldn't protect herself that day. She needed people like you to do it for her. The walk to fight animal cruelty is the BC SPCA's largest fundraiser of the year and the organization is dependent on the funds raised to care for 27,000+ animals each year.
Now thriving in a loving forever home, Bryn has come a long way. Her many injuries healed and her withdrawn, quiet demeanour now a part of the past.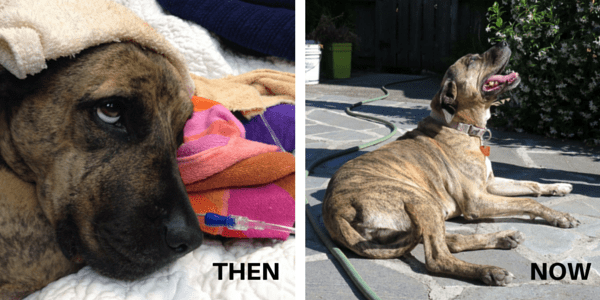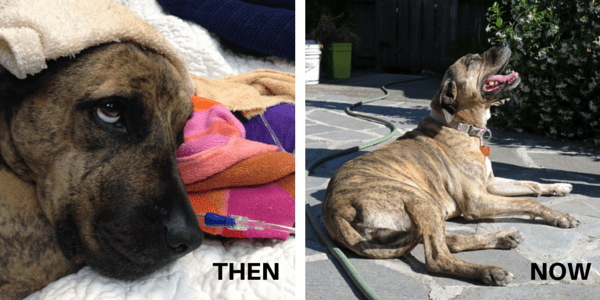 Bryn loves rolling around in the grass and in the privacy of her fenced yard, where she stares at the goldfish in the pond and sun bathes on the deck. She also loves going for her walks, where she is always the centre of attention when she meets the neighbours.  Now extremely outgoing and totally devoted to her new family, Bryn is living the good life, after suffering injuries so horrible, they could have interfered with her ability to walk properly again.
You can be a voice for animals like Bryn. You've seen things, you've said things, now is the time to DO something. Stand up and walk to fight animal cruelty. Register today and truly change an animal's life forever.
The British Columbia Society for the Prevention of Cruelty to Animals is a not-for-profit organization reliant on public donations. Our mission is to protect and enhance the quality of life for domestic, farm and wild animals in B.C.