He was found with another draft horse in July, in a hot spot in Williams Lake, when wildfires were still raging in the area.
Tony, a large animal with a larger-than-life personality, could barely walk, however – his hooves were so neglected and overgrown, it was painful for him to move. His equine pal, Poppy, was in the same state.
"They were behind the fire evacuation lines so we had to move them, as it was dangerous for them to be there. They were very friendly but reluctant to move because of the pain in their hooves, which were grossly overgrown," says BC SPCA senior animal protection officer Eileen Drever.
"They were in so much pain they would have had difficulty trying to flee from the fires… I hate to think about what would've happened if we hadn't found them."
After receiving veterinary and farrier care, the horses were determined to be fit for transport and were transported to the Good Shepherd Barn in Surrey, where staff, volunteers and local farriers continued to care for their hoof and dietary issues that stemmed from the neglect they both suffered.
"Hooves don't get that overgrown overnight – they were neglected for a lengthy period of time to be in that sort of condition," Drever says, noting the BC SPCA will be recommending charges of cruelty against their former owner.
"We're grateful we came across them during our work behind the fire evacuation lines – they're in a lot less pain and they've totally bloomed in our care – they can actually walk now, where before they were wary of moving because of the pain."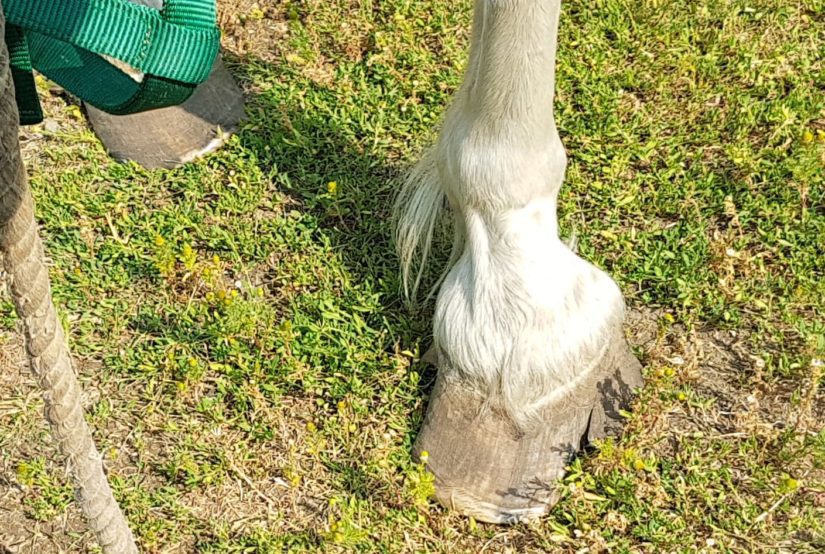 Poppy has since been adopted into a loving home, but Tony, now in BC SPCA foster care, still needs to find his forever home. While he might still be a little shy about having his hooves touched because of his history, Drever says he'll make a fine addition to any barn – especially if there are other horses around.
"Tony loves the company of other horses – I think he would do well in a home with at least one other horse as a companion," Drever says.
Email rescues@spca.bc.ca for more information or to arrange to meet Tony.