Warning: The following story contains graphic content.
He arrived in BC SPCA care in extreme pain and fearful all touch would hurt. Hogarth, a seven-year-old shih tzu, was so matted that one of his legs had almost died and with teeth so badly diseased, he couldn't eat properly and was underweight.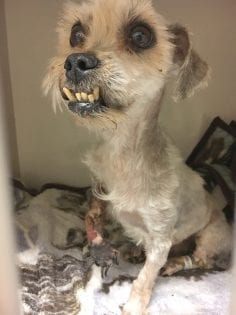 "His leg was black and necrotic – he couldn't bear any weight on it and was in a lot of pain," says BC SPCA Victoria Branch manager Annie Prittie Bell. "Despite everything he's been through, Hogarth is such a sweetheart! He bonds fast to people and just wants to be held and cuddled."
In addition to losing one of his front legs, Hogarth will need special skin treatment for others wounds on his tiny body as well as dental surgery due to severe dental rot. The medical costs related to his care and recovery are expected to exceed $5,000. A non-profit organization, the BC SPCA relies primarily on public donations to help the province's most vulnerable animals.
"We just want to give this cuddle-bug a second chance at a better, pain-free life," says Prittie Bell, noting Hogarth will be available for adoption once he has recovered from his surgeries. "He can still live a long and active life as a 'tri-pawed' furry family member and he has so much love to give."
If you can help Hogarth and other animals like him at the Victoria SPCA, visit spca.bc.ca/medicalemergency or you can donate in person, at 3150 Napier Lane, Victoria.