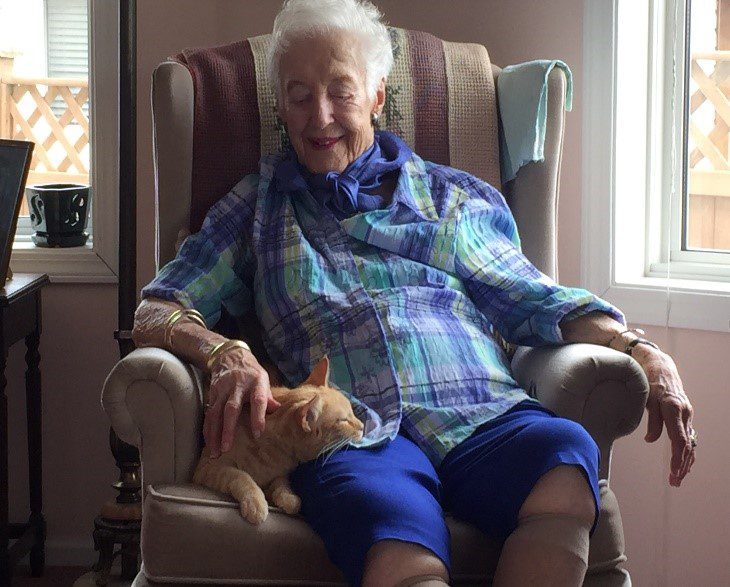 Born and raised in Gaspe Peninsula, Phyllis Vincent always had pets in her home. When she started a family of her own, she taught her children from a young age the importance of demonstrating compassion for animals. Her daughter, Penny, recounts how affected Phyllis became whenever she heard a story about a suffering animal. "But she was always encouraged by stories with happy endings," she explained, leading to her decision to become a long-time donor and PAW Plan member with the BC SPCA.
When Phyllis was widowed in 2008, she at first found great comfort in her sheltie, Sammy, to fill the void her husband had left. But when Sammy too passed away a few years later, Phyllis was devastated. For the first time, she found her house completely empty. Her children tried to cheer her up, buying her a sheltie calendar every Christmas in memory of her beloved dog.
But it was not until Mango that Phyllis found true comfort.
One spring, when Phyllis visited the Penticton SPCA, she met a very special cat. Mango had been rescued from a hoarding situation, and due to her traumatized state, she had developed poor socialization skills. She was not yet ready to be adopted, so Phyllis thought this might be the last time she ever saw the beautiful orange cat.
But as fate would have it, when Phyllis returned to the shelter months later, Mango was still there. The cat held out her paw to Phyllis, and Phyllis was moved.
"I just can't leave her," she told Penny.
With that, Phyllis took Mango home. There, the cat took a few months to come out of her shell. Though her socialization was much better than it had been months ago, Mango was still quite cautious, spending most of her time hiding under furniture and refusing to be picked up. But Phyllis was loving and patient. She quietly set out food and water, allowing Mango to take as much time as she needed to adjust. Finally, Mango began to build up her courage. She started venturing out further, exploring more and more of the house. At last, she went from hiding under furniture to curling up in the best antique chair in the house, right beside Phyllis!
"Every evening, [when] I had a phone chat with my Mum," Penny later told the BC SPCA, "I always heard Mum tell a 'Mango story'." Whenever she went to visit her mother, Penny never thought of it as just visiting Phyllis—rather, she was visiting "Mum and Mango".
"They were together for five years," Penny said. "We used to say it was a mutual rescue."
Phyllis' lifelong love for animals and her deep, meaningful relationship with Mango inspired her to teach more people, particularly seniors, about the health benefits of living with a cat or dog. This led her to becoming a Forever Guardian, choosing to leave a gift to the BC SPCA in her will.
Even after she had passed away, Phyllis' kindness and generosity ensured that funds would be still be available for emergency services for animals. Mango herself is still around today, adopted by friends of the family who are also compassionate animal lovers. Thank you so much, Phyllis, for thinking of animals like Mango, and for leaving a legacy of love. You have touched so many hearts with your compassion and generosity. Tails wag and ears perk in your honour!
For more information on our Generosity in Action program, please contact Erin Walkey, Director of Philanthropy, Revenue Development 1-800-665-1868.