Speaking for the animals of this beautiful province isn't easy work. It's work that requires all hands (and paws!) on deck. That's why the BC SPCA is incredibly thankful for the Provincial Employees Community Services Fund (PECSF). This compassionate group of people understand the importance of our work and have helped us speak for animals for over 20 years!
PECSF is the Province of British Columbia's employee-driven workplace giving program. These generously caring people have been choosing to support the BC SPCA since 1994 and have raised over $1M for our cause!
To shed some light on the power of their generosity, over the past three years alone, PECSF has donated more than $300,000 to the BC SPCA. What transpires from this financial backing is significant – it means each year PECSF helps the BC SPCA help a total of over 48,000 animals, find loving forever homes for over 14,000 animals, and conduct over 9,000 cruelty investigations.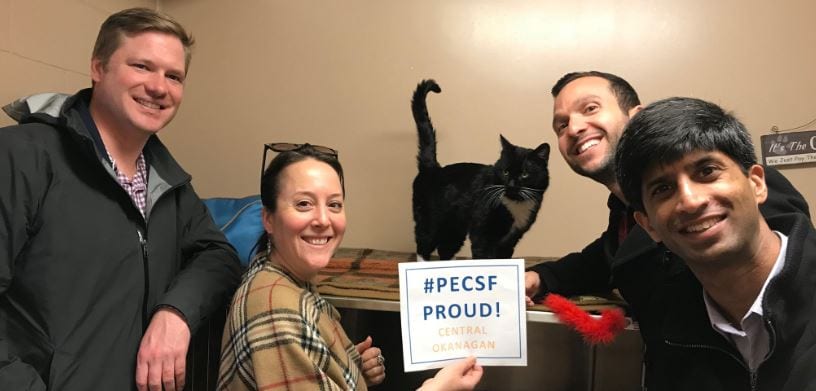 "PECSF is passionate about taking a stand for animals, and we love being able to support animals in our local communities" says Gillian PECSF's campaign manager. "With 44 BC SPCA locations across the province, we have the option to donate to our local shelters allowing us to give close to our homes and hearts."
"Workplace giving is an amazing way to donate to the BC SPCA, and PECSF is a perfect example of this program" says Meredith Beitl, BC SPCA's director of corporate and events. "Teaming up with other employees demonstrates how small acts of kindness and generosity can become significant acts when you work together."
Without our incredible community of supporters, like PECSF, the BC SPCA wouldn't be able to speak for the many animals we care for and protect. Thank you to every single member of PECSF for your continued support, the BC SPCA team is honoured to have you in our corner.
Ask your employer if employee workplace giving is available to you, and if you'd like to set up a program for you and your teammates to donate to the BC SPCA, reach out to Breanna Kray at bkray@spca.bc.ca.
For more information on our Generosity in Action program, please contact Erin Walkey, Director of Philanthropy, Revenue Development 1-800-665-1868.