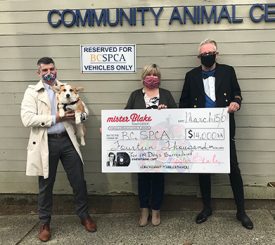 It didn't take long for news that 119 small dogs were surrendered to BC SPCA Animal Protection Officers in Fort Nelson to reach animals lovers across the province. When mister Blake heard that these dogs were in poor condition and needed urgent care, he immediately reached out asking how he could help. He connected with the BC SPCA Provincial Office, and kindly offered to donate funds toward these particular dogs—to the tune of $14,000!
Within a few days, he and his charity, mister Blake foundation arrived at our Vancouver Community Animal Centre and generously gave a gift that would ensure the dogs were protected and cared for.  Mister Blake has a strong passion for philanthropy and his foundation has supported several causes both in animal and human welfare. A musician and music producer by trade, mister Blake is truly devoted to helping those in his community and around BC. He has two shelties of his own (a breed he has loved his entire life) and likes to take them for joy rides in his car.
It is because of mister Blake, and animal lovers like him, that the BC SPCA is swiftly able to provide the life-saving resources and care to animals when then need it most. We are sincerely grateful to mister Blake and his foundation for their heroic kindness and generosity. Thank you, mister Blake!