Every Thursday on Powell Street in Vancouver's Downtown Eastside, BC Housing brings hope and help to the community through their support of Charlie's pet food bank. This community-based BC SPCA initiative focuses on providing free and low-cost pet services for people who are homeless, low-income, and senior pet guardians. BC Housing has been committed to the BC SPCA for 12 years and has been the most significant corporate supporter of Charlie's. "BC Housing employees genuinely care about the people and animals aided by Charlie's pet food bank" says Kim Monteith, BC SPCA manager of animal welfare. "We love having them volunteer, and we are also very grateful for their financial donations. We certainly couldn't help as many animals without the assistance from BC Housing."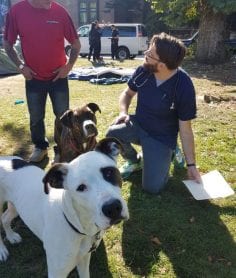 To enable their employees to "give where their heart is," BC Housing established the Community Connections Program. This progressive and compassionate program encourages employees to give back in a variety of ways: employee financial gifts are matched by BC Housing (up to $100 every year), volunteer time is employer-supported, and employees are encouraged to creatively fundraise. These efforts have greatly supported the BC SPCA, and have given animals happy and healthy lives!
"As providers of housing across B.C., we know firsthand how important the human-animal bond can be. Animal companionship provides constant and unconditional love which has positive effects on the guardian's choices and lifestyle," says Agnes Ross, VP of HR and Executive Co-Sponsor of the Community Connections Program at BC Housing. "BC Housing is thrilled to donate to the BC SPCA and we are proud of our team's commitment to the cause."
Thank you BC Housing for choosing to support the BC SPCA. We are very grateful for the opportunity to work together, creating kinder and more humane communities across the province.
Read more about Charlie's pet food bank in the BC SPCA Animal Sense article (PDF).
For more information on our Generosity in Action program, please contact Erin Walkey, Director of Philanthropy, Revenue Development 1-800-665-1868.