Over the past five years National Cupcake Day has been a creative way for BC SPCA supporters to raise funds for animals in need by baking delicious cupcakes in exchange for donations. In 2018, animal-lovers in B.C shone, landing three of the four top fundraiser spots across Canada!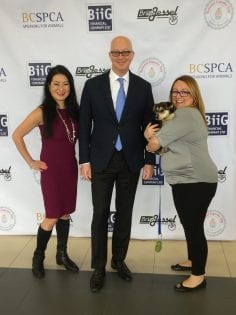 Long-time friend to the animals Linda Mah was the top overall fundraiser, singlehandedly raising more than $7,000 from friends, colleagues and family. Inspired by her dogs, Remy and Scarlett!, Linda is a past BC SPCA top Cupcake fundraiser who finds the event to be a sweet way to give back to other animals in her community.
Linda was joined by her teammates at Brian Jessel BMW in claiming the top corporate team spot, raising an incredible $13,300 for animals in need. The team reached out to everyone in their network for donations then invited them to visit the dealership on Cupcake Day to pick up, not one, but a dozen cupcakes! They also got to meet four-legged members of the Brian Jessel BMW family and bring their own pets down for a treat.
"When fundraisers get everyone involved and get creative with their fundraising you really see the results. Linda and the team at Brian Jessel BMW have such a huge passion for animals and it inspires so much generosity in others" says Tess Repenning, BC SPCA Manager, Peer to Peer & Community Fundraising.
Being one of the youngest Cupcake eaters didn't stop Alice Young, age five, from raising nearly $1,000 and claiming the top youth spot across the country.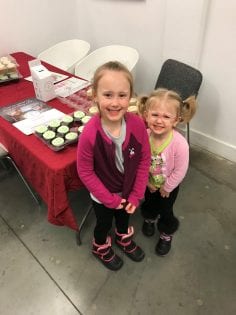 Alice, along with her little sister, Lucy, did all the baking themselves and even gave a speech about their fundraising when they were out collecting donations. They created hand-made posters and decorated cupcakes to be taken to their Grandma's office as well as door-to-door.
"We are very happy to have helped Alice help the SPCA these past couple years, and can't wait to do it again next year", says Alice and Lucy's mom Laura.
Thank you Linda, Alice and the team at Brian Jessel BMW for being advocates for the safety and well-being of all animals in need. Your baking will have a significant impact on the shelters, clinics and animal cruelty inspectors in your community, ensuring that their life-saving work continues.
If you're interested in joining these fundraising superstars in supporting animals in need, start a fundraiser of your own today!
For more information on our Generosity in Action program, please contact Erin Walkey, Director of Philanthropy, Revenue Development 1-800-665-1868.