You can help make the holidays merrier for pets in Vancouver's Downtown Eastside (DTES). Charlie's Food Bank, a once-a-week- pet food bank that serves low-income clients in the DTES, is holding a pet toy drive until Dec. 14 to bring joy to furry, four-legged area residents.
"Who doesn't want a visit from Santa? Our furry friends need our help and love during the holiday season, too," says BC SPCA manager of animal welfare Kim Monteith.
"We just want to help give a brighter holiday season for area residents who have pets, many of whom often go without food or luxuries themselves, in order to keep their pets fed and comfortable."
Need knows no season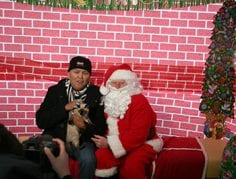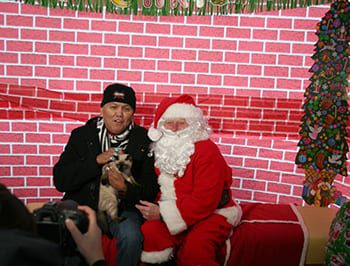 Charlie's Food Bank, which started in 2000, was named in memory of a dog who was intentionally starved by his owner. Run out of Mission Possible every Thursday morning, the all-volunteer food bank also operates a veterinarian clinic once a month, where vets also volunteer their time and skill to help animals whose guardians might not otherwise have access to veterinary care.
"We help more than 5,000 area residents and their pets each year, with much of the pet food and supplies we distribute donated by a very generous public," Monteith says.
"Anything and everything anyone is able to give is always, extremely appreciated by these furry companions and their guardians."
The deadline for the toy drive is Dec. 14, so that Santa can help give out the toys and gifts at the Dec. 19 Charlie's Food Bank.
Suggested donation items:
Dog, cat and rabbit toys
Beds and blankets
Treats – dog/cat
Wet food – dog/cat
Rabbit and rat food
Cat litter
Baskerville ultra muzzles
Please mark donations with 'for Charlie's'. Donations can be dropped off at the Vancouver BC SPCA Branch, 1205 East 7th Ave., Vancouver, during business hours. Those not in the Vancouver area can also email charliesfoodbank@spca.bc.ca for information on how to help.