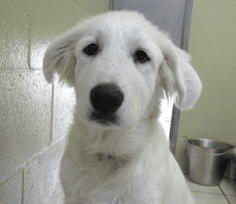 In the late summer of 2015, the BC SPCA West Vancouver Branch obtained a litter of Great Pyrenees puppies. These were enormous puppies, and it was crucial that we rehome them to families that were prepared to take care of them.
Luckily, Jane happened to be browsing the BC SPCA online adoptable animal database. The moment she laid eyes on Chinook's photo and description, she knew they had to meet.
Three years on, we have an update on just how happy Chinook is in her new home:
I first saw Chinook and her brothers on the BC SPCA adoption website. Of course I went to visit her the following day. She was part of a seizure and had only been in the West Vancouver branch for less than a week. Chinook was with her brothers and as a Great Pyrenees she was a giant breed. As a pup she was already a big girl.
That day, I took Chinook for a little stroll around outside although she wasn't great on a leash at that time. After talking with the Branch Manager, I said I would like to adopt her. I went back later that week after she had been spayed and we went home together back to Port Coquitlam.
Chinook learned her manners walking on leash, made dog and human friends, and settled down really well. Since she's a livestock guardian breed, she loves our cat, Lila, who we also adopted from the BC SPCA. Yet she can't understand why Lila doesn't love her back!

Little did I know at that point I'd soon be making a lifestyle change by moving from Port Coquitlam to Salmon Arm and onto an acreage.
Ever since we moved to our acreage, Chinook has had acres to run around and guard. She watches the animals across the street but is very respectful of her fences and loves her walks in our new community.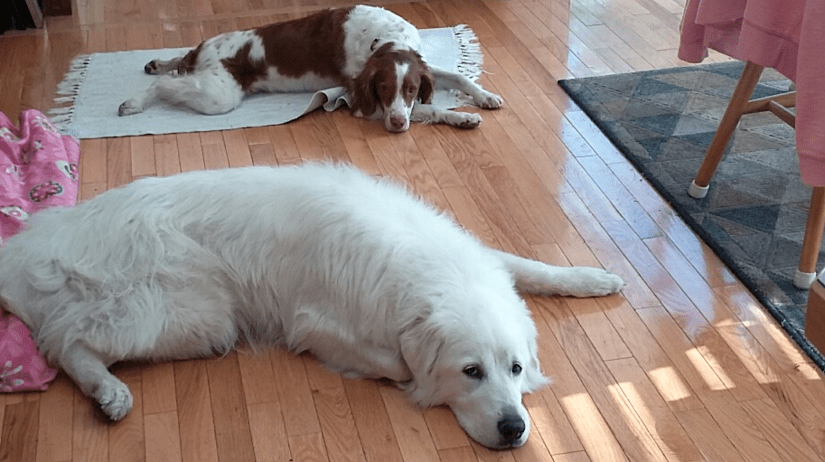 I'm so glad I saw Chinook online that day. I only wish I could have taken the rest of her litter, but that would have been a handful and more—all those white fluffy dogs. I'm currently looking for a buddy for her now with all this space since I can see her having a big buddy to play with happily. Right now, we're waiting for the snow to fly and see how she likes that too.
Thank you, Jane, for adopting Chinook into your family and for giving her the commitment and space she needs to keep her intelligent mind occupied. Not only does your new Salmon Arm acreage sound perfect for her, but your devotion to providing Chinook with the best life, proves she has a forever home with you.