His knee causes him constant pain and leaves him unable to walk for more than a couple of minutes at a time. BC SPCA staff are hoping the public can help Walter, a friendly French bulldog at the Victoria SPCA, who needs surgery to mend the issues with his leg.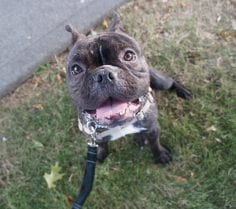 "His kneecap is off by 10 millimetres, which doesn't sound like much, but it grinds against the bone every time he bends his leg," says BC SPCA Victoria Branch manager Annie Prittie Bell. "He's such a cute, funny, lovable little dog! He loves to play with his toys and cuddle. We just want this one-year-old to have a chance at an active and pain-free life."
Brought to the Comox SPCA after being surrenedered at the Port Alberni BC SPCA Branch, then transferred to the Victoria SPCA, Walter came from a breeder and was bought from a pet store, Prittie Bell notes.
"As often happens with certain breeds, he was inbred to the point that he had severe health issues," Prittie Bell says.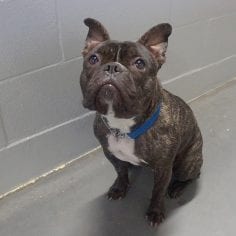 The surgery and medical costs related to Walter's care are expected to exceed $7,000. A non-profit organization, the BC SPCA relies primarily on public support to help the province's most vulnerable animals.
"We heard from a generous donor who wishes to remain anonymous, who has offered to match gifts (donations) for up to nearly half the estimated amount," Prittie Bell says, adding Walter will eventually be available for adoption. "We are so grateful for the help! We're certain it will help get Walter back on his feet with the energy to live a full life, hopefully in a happy, loving home."
If you can help Walter and other animals like him in need at the Victoria SPCA, visit spca.bc.ca/medicalemergency or in person at 3150 Napier Lane, Victoria.