Who could forget about Frank, the precious 22-year-old donkey that went viral on BC SPCA social media accounts at the beginning of September? This gentle soul garnered a lot of attention while he was looking for his forever home because of his big heart and sweet face.
Frank first came into BC SPCA care when his owners were no longer able to support his medical needs. After being examined by a veterinarian, Frank was found to have pituitary pars intermedia dysfunction (PPID) – commonly referred to as Equine Cushing's Disease. PPID is a hormone disorder that can lead to complications and other serious health issues when left untreated. But in the right home and with access to the appropriate medical care, a donkey with PPID can live a very happy life. Frank was also suffering from severe dental disease and had several missing teeth which was giving him trouble with eating his food. He has received dental treatment since arriving in the BC SPCA's care.
Golden boy Frank, now called Charlie, found his forever retirement home thanks to the power of social media and lucky timing. It was a connection of fate when Charlie's new guardian, Sheri, and her barn manager, Kate, found him online, just one week after Sheri's 40-year-old rescue donkey sadly crossed the rainbow bridge.
Sheri has adopted several cats from the SPCA over the years, but Charlie is her first SPCA adopted farm animal. A number of other animals also live on Sheri's farm and keep Charlie company. In fact, the reason for his name change is because the family already owns a pony named Frankie! Despite Frank being the perfect name for a donkey, Sheri worried things could get confusing fast when Frankie the pony comes to visit from his current home in Southlands.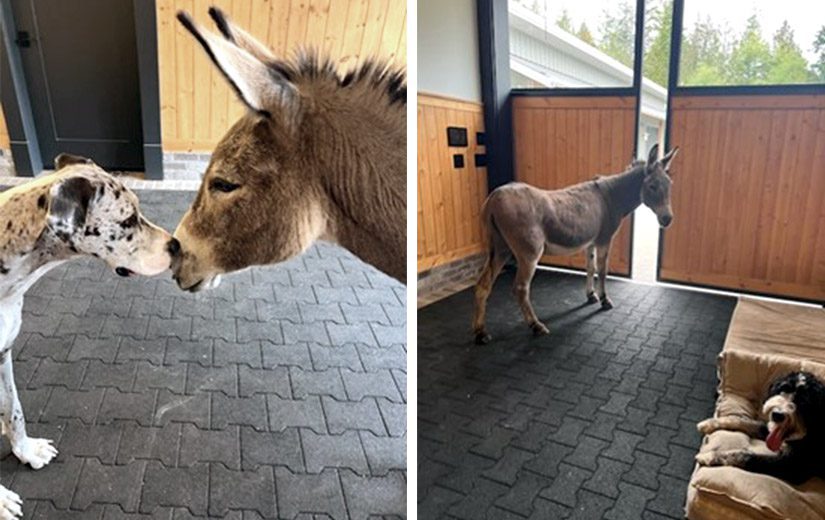 "I saw a photo of him online and knew right away that he would fit in with my barn," says Sheri. She applied to adopt Charlie immediately and was approved upon review with certainty that her home was the best match for sweet senior Charlie.
"He is quite the affectionate donkey," says Sheri, "When it is breakfast time, he brays very loudly and then begins trotting over to get some scratches. Charlie loves to cruise around and has even figured out how to open the feed room door, so we've had to limit his time hanging out in the barn! He is the most energetic donkey I have ever had," she adds.
Charlie is now living a happy life with Sheri on her farm in the countryside. He spends most of his days with his new best friend Millie, a miniature mule who Sheri rescued a week after Charlie came home as she thought the two would become good friends. The playful duo love to hang out together on a trail beside the barn and even run around in the outdoor ring on the property. According to Sheri, Charlie is super talkative and loves his people – but mostly he loves Millie and she is never far from his side.
This story is a true testament to the saying "everyone deserves a second chance at love" as Charlie now has his second chance but is also bringing so much joy into every life he touches.