Warning: Graphic photos below. Discretion is advised.
An emaciated golden retriever named Trooper brought tears to the eyes of staff at the BC SPCA's Maple Ridge Branch Sunday.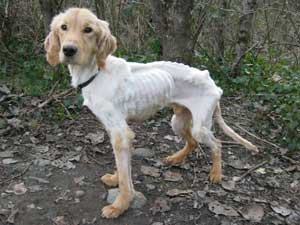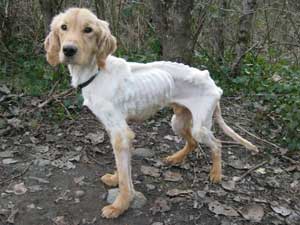 The adult male dog, whose matted fur was covered in dirt, mud and feces, was dropped off at the shelter by a man who said he found the dog near the intersection of 237th Street and Dewdney Trunk Road.
Senior animal protection officer Eileen Drever said she's never seen an animal that emaciated in her entire 30-year career with the not-for-profit society.
"I thought I had seen everything, but clearly I was wrong," said Drever. "This dog has literally wasted away — I'm not sure how he even has the strength to stand."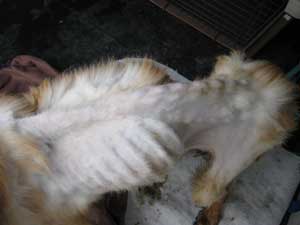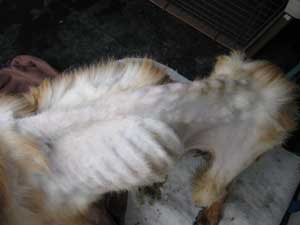 A typical male golden retriever should weigh between 30 and 34 kilograms; Trooper weighed 11 kilograms (24 pounds) when he was brought in Feb. 28. He's put on nearly two kilograms in the last three days.
"He actually weighs less than his bag of dog food right now," says Drever.
The gentle, friendly dog is being fostered by a shelter staff member. To get his body used to eating again, Trooper is fed small amounts of food six times a day. Drever suspects it will be months before he's given a clean bill of health.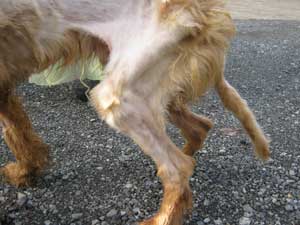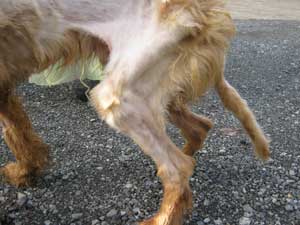 In the meantime, the SPCA is appealing to the public for information that would help identify Trooper's owner. The dog was wearing a choke chain when he arrived at the shelter, but there were no marks around his neck to indicate long-term pressure, as there would be on a dog chained up all the time.
Anyone with information about Trooper's guardian should contact Drever at 604-709-4670.
Mar. 8 Update: Trooper's guardian has been located and animal cruelty charges are pending.
Mar 9. Update: Trooper's foster mom shares an update on his progress, as we thank all those keep him in their thoughts.
"Trooper was in to the vet yesterday and weighed in at 29.3 pounds (he weighed 24 pounds last Sunday when he arrived at our shelter). He has had a fair amount of diarrhea and so he is on some medication for that.  He is eating cooked chicken and rice six times a day and he LOVES it!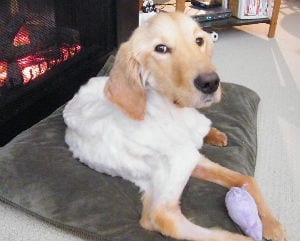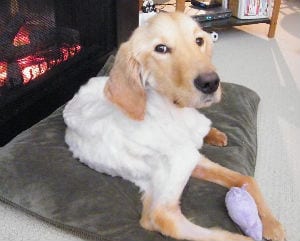 For the first few days he was here he pretty much just slept and ate. He has much more energy now and he likes to play and run (though he's still a little wobbly!). I have a small dog and they chase around the house and play together. Trooper likes stuffed toys the best and has quite a collection going on from donors! 
His favorite right now is a "Tootsie Roll" shaped one.  We are working on his house training too…I think it will become better and better as he starts to feel healthier. 
He knows the sit command and will play fetch!  He has met lots of other dogs and many, many people and has been FANTASTIC with all of them!  He just seems to love everybody!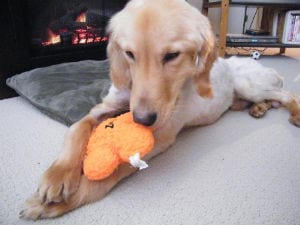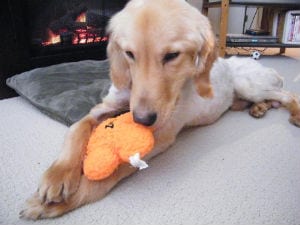 I have noticed that Trooper has not made a single sound since he came to us.  Not a bark, whimper, whine…nothing. 
Then yesterday at work, I was talking to a stray dog that had come in and Trooper could hear me but not see me.  I heard him whine a little and I felt like a proud mother whose child has said it's first word!!"
Mar. 10 Update: CTV BC aired a story about Trooper and his heartbreaking story.  Watch CTV news tonight for a follow-up story on Trooper and his former guardians.
Apr. 2 Update: Despite uncooperative weather, the Pooches in the Park fundraiser held Mar 28th at Jerry Sulina Park in Maple Ridge was a great success. The event raised $2,000 for the Maple Ridge branch of the BC SPCA, who provide shelter, care and protection to many animals just like Trooper. An enormous thank you to Carol-Ann Loeppky from Richmond, who organized the event and continues to raise awareness for victims of animal cruelty.
Apr. 6 Update: Trooper was a guest at the groundbreaking ceremony for the Maple Ridge shelter, along with foster guardian Brad Hayward of Pitt Meadows.
Apr 7. Update: Charges have been laid against Michael Schneider of Maple Ridge, Trooper's former owner. Schneider faces two Criminal code charges including allowing an animal to suffer and not providing food and water as well as one charge of allowing an animal to be in distress, under the Prevention of Cruelty to Animals Act. He is scheduled to appear in a Port Coquitlam provincial court on April 22nd at 9:00 am.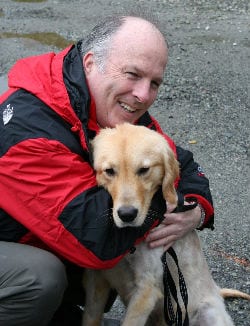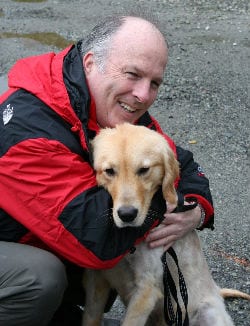 Apr 9. Update: Congratulations to Trooper, who has officially found his new forever home.
Brad and Athena Hayward offered their home to Trooper after taking over foster guardianship from Paula Rowland, a BC SPCA staff member.
"Trooper is now the healthy, happy puppy he was always meant to be." says Mark Vosper, Maple Ridge BC SPCA manager in a letter to a local newspaper.
Aug 23. Update: Trooper's former owner, Michael Schneider of Maple Ridge receives a $2,000 fine and 10-year-probation from owning animals. He was also ordered to pay $430 restitution to the BC SPCA. For more information, read our full news update.
Feb 4. Update: Trooper celebrated his second birthday in his loving "forever home" with adoptive guardians, Brad and Athena Hayward.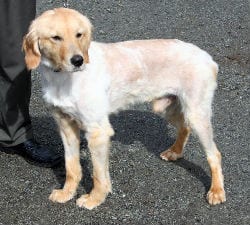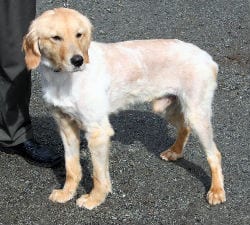 The British Columbia Society for the Prevention of Cruelty to Animals is a not-for-profit organization reliant on public donations. Our mission is to protect and enhance the quality of life for domestic, farm and wild animals in B.C.