DIY cat toys are a purrfect way to explore your creativity while also making a toy that can enrich your cat's day. DIY cat toys are also cost-effective, especially if your kitty has a habit of destroying or losing store-bought toys. Not to mention it's a great way to make your cat's play time a more personal experience, knowing that you are partly responsible for the joy they're experiencing with their new toy.
If you're craving some creative time and looking to spoil your kitty, creating some adorable DIY cat toys is a great home project to start now. Here are some fun and simple ideas with easy-to-find-materials to help get you started.
1. Feather wand toy
What cat doesn't love feathers? A feather wand is a great boredom buster for your cat and allows some interactive playtime between you two while also creating a safe distance between your skin and your cat's claws. Here's what you'll need.
Supplies: 
Long stick or wood dowel
Colourful feathers
Small bells
String
Glue (hot glue might work best)
Scissors
Directions: 
Glue together the quill ends of about six to 10 feathers together to make a small bunch.
Use some string to bind the bunch together with a dab of glue to help hold the feathers in place. Set feathers aside to dry.
Cut a small divot around the end of your stick or dowel. This is where you'll add your string.
Cut a piece of string about 50-75 centimetres long. Tie one end of the string securely around the dowel. You might want to dab the string with glue for some extra strength to hold in place.
Add one to three bells to the other end of the string and tie in a secure knot. Leave a little bit of string (about five centimetres) at the top.
Next, add your feathers by wrapping the bells around the quill ends and tie securely with a knot with the string. You might want to add a touch more glue to better secure it. Trim any excess string. Allow to dry.
Now, go play!
2. Toilet paper cat toy rattle with treats
Cats love to play, and they love treats! When you combine both into a sort of food puzzle, well, it's basically the purrfect form of amusement. Food puzzles help cats engage in part of their natural predation sequence – getting food. This easy toilet paper toy will leave them hungry for more. Here's what you'll need.
Supplies: 
An empty cardboard toilet paper roll
Scissors
Your kitty's favourite bite-sized treats
Directions: 
Fold one end of the cardboard roll inside, tape (loosely if you want your kitty to actually score some treats).
Stick a couple of your cat's favourite treats inside
Fold the other end of the roll, and tape.
Decorate with a funny cat face or other fun graphics!
Watch your cat drop and 'roll' with their new toy!
3. Cat hammock
Cats are notorious for cat naps. Cat hammocks provide a feeling of comfort and security, which is why they are the perfect place for a snooze. Here's how to get started with constructing your own.
Supplies:
An old stable chair with at least two stretchers (stretchers are the horizontal support of the chair at the bottom which tie the vertical elements of the chair together).
An old t-shirt or old blanket or towel.
Scissors.
Directions:
If using t-shirt, cut the shoulder parts off the t-shirt to create a square piece of fabric. If using a blanket or towel, trim enough material so that it fits within the perimeter of the chair and is taut.
With t-shirt, take bottom part of the t-shirt and cut the sides open about 15-20 centimetres. With blanket or towel, do the same, cutting slits along the sides to create ties.
If using t-shirt, tie the ends of the t-shirt together around the ends of the chair, making a double knot on each end to secure it, creating the shape of your hammock. Do the same with the ends of the towel or blanket.
That's it! Time for a cat nap!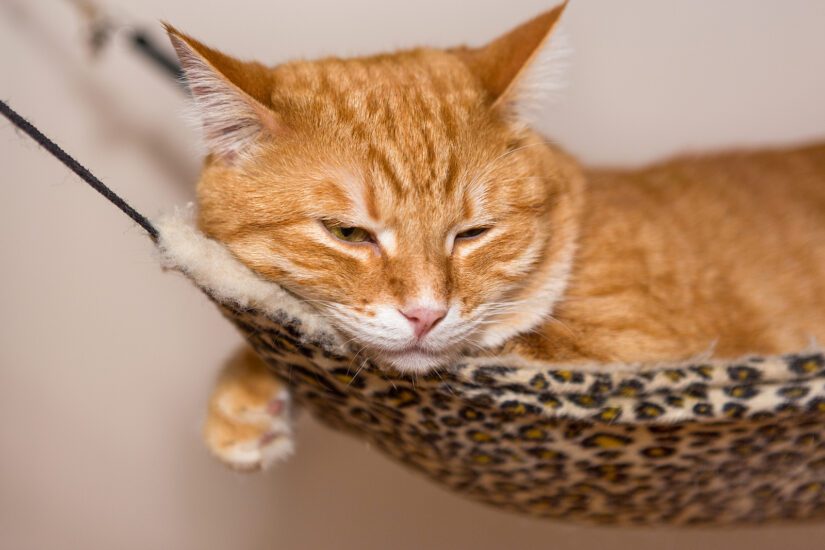 More like this
How to build a catio
How to create an outdoor cat tunnel
Create a window box for your cat