Did you know that there are other countries stepping up for farm animals? If you're travelling, keep an eye out for these labels when eating out or grocery shopping.
Both Australia and the UK have animal welfare programs run by each country's Royal Society for the Prevention of Cruelty to Animals (RSPCA). In fact, Canada's own SPCA Certified program was inspired by the RSPCA UK's original Freedom Food program for farm certification and food labelling. Now called RSPCA Assured, the program is going strong in it's 24th year.
RSPCA Assured covers animals that would spend most or all their lives in cages or crates on conventional farms. They make sure pigs, veal calves and egg-laying hens get plenty of space to move
and play on their farms. Chickens raised for meat, turkeys, and even salmon and trout are also part of the program.
Australia's version, called RSPCA Approved, operates in a similar fashion. You won't find lamb or beef cattle standards here since in Australia these animals are almost always raised outside already. Instead, like RSPCA Assured, they focus on making sure no animals live in small spaces or crowded together. All pigs, poultry and veal calves on these farms live the good life!

Like SPCA Certified here in Canada, farms that choose to join can put the trusted RSPCA label on their products to show they put the animals' well-being first. Better yet, both of these programs boast full traceability. This means their products stay separate from conventional food from the farm right to the grocery store or restaurant. That way there's no doubt about where their eggs, meat, or fish came from.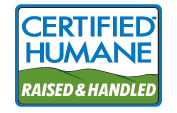 In contrast to the other countries, our neighbours to the south have several humane farm certifications to look out for. Many of us here in B.C. make regular trips down to Washington for shopping and our favourite treats. Arm yourself with knowledge on ethical farming labels to support better animal welfare wherever you choose to shop.
You may already be familiar with the Certified Humane label. They have begun certifying farms in Canada, and also have a presence in Hong Kong, Peru, Brazil, and Chile!
Another humane label you'll see in the USA is Animal Welfare Approved (AWA). The non-profit A Greener World runs this program. They stand out from the other American programs in that every kind of animal certified under AWA must have pasture access. Along with Certified Humane, they have products in some Canadian stores.

If you've ever shopped at Whole Foods you'll likely have seen the Global
Animal Partnership (GAP) label on their animal products. Unlike the other certifications, GAP has 5 certification levels. Producers can work their way up to providing their animals the ideal environment. But watch out – steps 1-2 offer only minor benefits to the animals. Double check your choices to make sure you're supporting steps 3 or higher.
Canada's own national farm certification program, SPCA Certified, was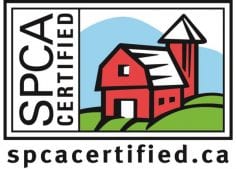 developed right here at the BC SPCA in 2002. We are proud to continue the important work started at the RSCPA UK. You can make a difference to the lives of animals in your province by buying from SPCA Certified farmers today!
Spread the word about humane farming when you're travelling and visiting friends and family! Farm animals across the world get to live better lives with these programs, and they all need your voice to keep moving forward.
Contact our farm team for more information.
Want more stories like this? Sign up for our quarterly newsletter FarmSense to stay on top of all things farm at the BC SPCA.