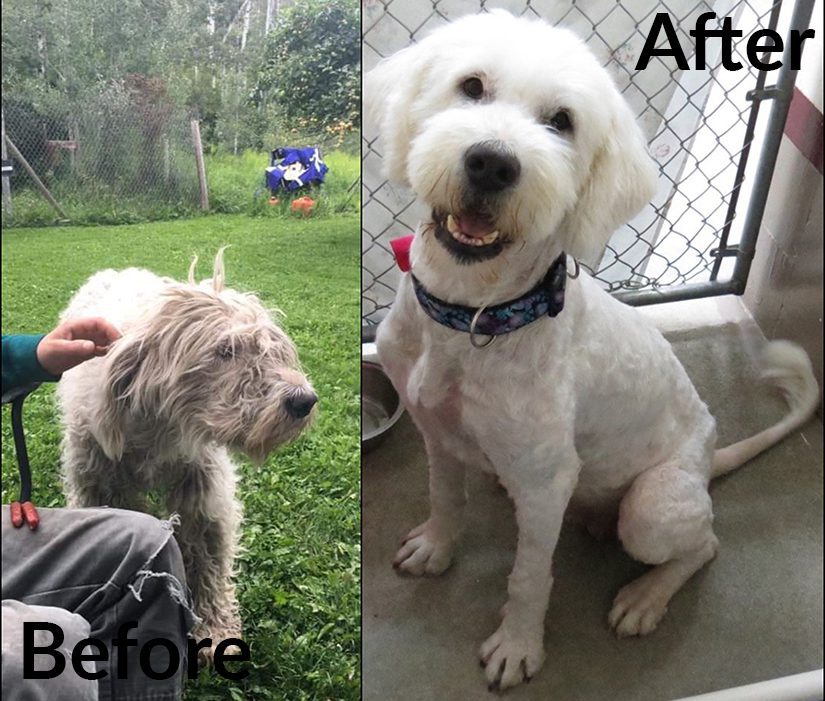 Darla was found wandering around terrified during a thunderstorm. A Good Samaritan spotted her in the brush behind their house and called the North Peace SPCA. When SPCA staff arrived to pick up the dog, they noticed she was in rough shape. Her back legs were so badly matted together that she could barely walk and she was covered in urine and feces. It's suspected that she was a backyard breeding dog who had been so terrified by the thunder and lightning that she had fought desperately to escape from her enclosure.
SPCA staff called a local groomer to take Darla in on an emergency basis to clean and trim her fur and soothe her skin. Darla may have lost her matted coat at the groomers but she would need a medicated bath and medication to cure her full-body skin infection.
Her teeth were either broken or worn down to the gum line. Darla's gums were terribly infected that the roots of her teeth were exposed. SPCA staff believe she may have been kept in a cage or small enclosure and had been biting the bars or wires out of boredom and stress. She was booked in for an extensive dental surgery to have several damaged teeth removed and received treatment to clear the infection.
Darla was frightened of other dogs and her teeth would chatter when she heard them barking in the kennels beside her. She would not want to return from walks and completely shut down. "Darla was timid, wary of fast movements and didn't know how to play with toys," says North Peace SPCA Branch manager Candace Buchamer.
This six-year-old dog was moved into a foster home with the hope that her mental health would improve in a quieter environment. As Darla recovered from her surgery, she began to come out of her shell and learn how to be a normal dog. Now, this timid dog began enjoying walks, playing with toys and was becoming comfortable with meeting other dogs.
She adjusted well to life in the foster home, becoming best friends with the foster's cat and young boy. The three would often be found sitting together on the sofa and watching cartoons.
"Her enthusiasm for life has never dwindled despite her original horrid condition," says Buchamer. "The immediate and ever-strengthening bond between this once neglected dog and a young boy is amazing to see!"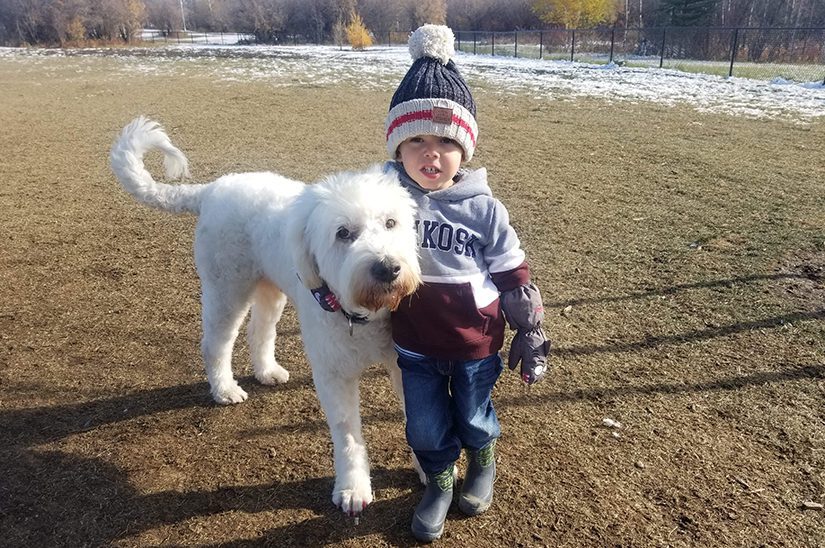 Darla was fitting in so well with her foster family that they decided to adopt her. This lucky dog is now called Tiny, and her new family is committed to ongoing treatment for Tiny's food and environmental allergies. They understand what a difficult life Tiny had before she met them and are dedicated to helping her enjoy every year to the fullest.
Tiny now loves playing with other dogs and is happy to meet new people. Her favorite activities are going for car rides, playing with the family's young boy and getting lots of cuddles. She has blossomed into a sweet and gentle dog.