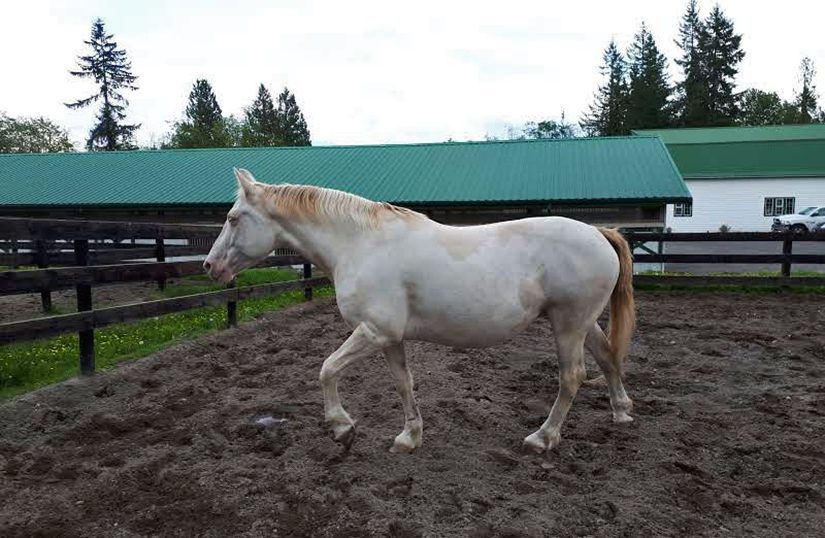 Last December, when SPCA constables seized 27 badly neglected horses from a Langley property, they knew the animals would need a lot of help to overcome the suffering they had endured. They also soon discovered that one of the horses named Mia was pregnant. Months after coming into care, Mia delivered a beautiful foal named Georgia.
"Mia had a big personality and played by her own rules," says Leiki Salumets, BC SPCA farm animal care supervisor. "We were lucky enough to find Mia a home with an experienced guardian where she could be adopted with her daughter."
Mia and Georgia found their perfect forever home with Lauren and Rob Macdonald, who own Black Diamond Farm in Abbotsford. The Macdonalds not only board horses but they also run a variety of community programs, such as summer camps for kids, and riding programs for preschool children, youth who are being home schooled and programs for teens.
"This summer we had 76 kids at the farm in eight days, so Mia got very used to being petted and loved. And Georgia is a sweet, friendly foal who just loves to play with our Friesian yearling," says Lauren Macdonald.
Macdonald says the two horses might become involved in the farm's riding programs in the future, they are just having fun in the pasture for now. "The most important thing is for them to relax, to feel safe here and to know that they can trust us. We just want them to be happy."
Thor was also one of the 27 horses seized from the Langley property.
---
BC SPCA is seeking help to care for a large number of horses seized in a cruelty investigation
Original story: January 28, 2019
The BC SPCA is seeking help to provide on-going care and loving new homes for a large number of horses seized in a cruelty investigation last month. On Dec. 15, 2018, 27 neglected horses were rescued from a Langley property suffering from lack of nutrition, lice infestation, overgrown hooves, rainscald from inadequate shelter and lack of access to water. They were living in unsanitary and muddy pastures and paddocks with hazardous objects strewn about.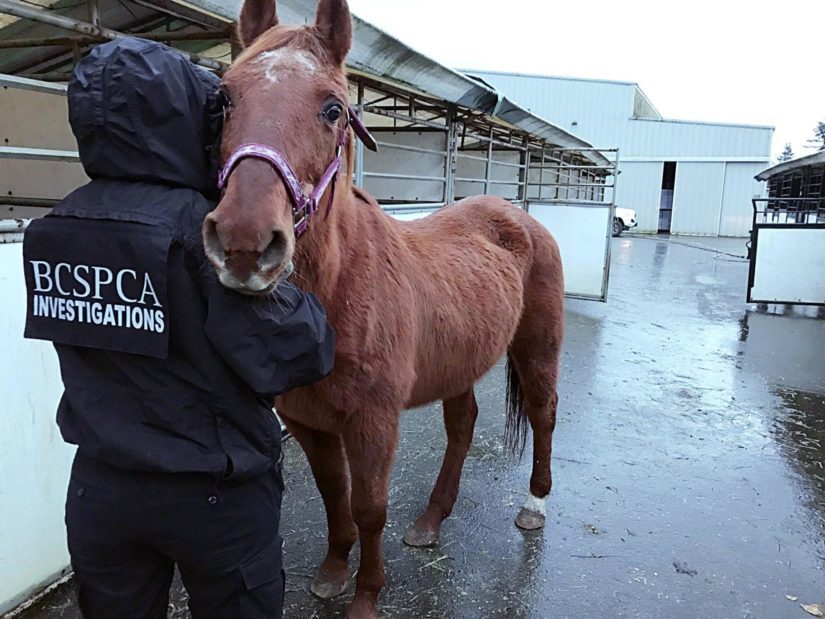 For the past six weeks BC SPCA staff and volunteers have been working tirelessly to provide initial medical care and help for the horses while legal custody was being resolved. Now that the SPCA has full legal ownership of the animals we can move forward to find loving homes for those ready for adoption, and to provide continued care for some who need on-going treatment. "These horses have been through a lot," says Const. Eileen Drever. "Some have emotional and physical scars that will take time to heal."
Drever says the horses have won a place in the hearts of the staff caring for them. "One of the oldest horses rescued, Thor, has been through so much and yet he is such a sweet, gentle boy," says Drever, noting that he has now been adopted to a new, loving guardian.  "It is so wonderful to see these beautiful animals overcoming their challenges and getting better each day."
The cost of intake for the 27 horses and their medical treatment and care to date exceeds $30,000. "We know that some of these horses will be in our care for quite a while, and we want to make sure they have everything they need for a better life. They deserve to be safe and cared for," says Drever.
The BC SPCA investigation into the case continues.
If you can help, please donate today.  For adoption information, please contact (604) 574-1711.