Crown counsel today announced charges of animal cruelty (Criminal Code, Section 445.1(1) (a)) against Bob Fawcett, former general manager of the Whistler-based Howling Dog Tours, for causing unnecessary pain and suffering to a number of sled dogs in April 2010. His first court appearance is scheduled for May 24 in Pemberton.
Gruesome details of the mass killings were leaked to media in January 2011 after Fawcett filed a successful claim with WorkSafe BC, saying the cull left him with post-traumatic stress disorder. Fawcett also posted details on a PTSD website, describing how the panicked animals were shot or had their throats slit before being dumped in a mass grave on the property.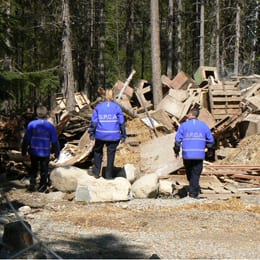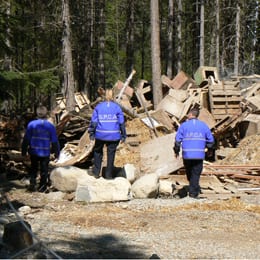 The BC SPCA immediately launched an investigation and last May a team of BC SPCA constables, veterinarians and forensic scientists completed the grisly task of exhuming the bodies of 54 sled dogs from the grave near Whistler. Evidence gathered at the site formed the basis for a BC SPCA report submitted to Crown counsel in September 2011 recommending charges against Fawcett. The report contained more than a thousand of pages of evidence, including extensive forensic evidence collected at the gravesite using state-of-the-art scientific techniques.
"The incident drew international outrage, but at the time of the investigation some members of the public didn't understand why we had to go through the extensive process of exhuming the bodies when Bob Fawcett had already described his actions," says Marcie Moriarty, general manager of cruelty investigations for the BC SPCA. "In order to move forward with criminal charges in the case, we had to produce clear evidence linking an individual to the crime as well as physical proof that the animals suffered unnecessarily, as outlined in the Criminal Code. Without that verification we could not present a case to Crown counsel." Moriarty says she is confident in the evidence that was collected and presented to Crown. "Our report is the culmination of thousands of hours of work, not only by our own SPCA constables, but by some of the best forensic scientists in North America who assisted us with the collection of the evidence.
"Whether you are determining forensic evidence for humans or animals, the science remains the same and we could not have carried out this investigation without our team of forensic experts, many of whom approached us to volunteer for the operation."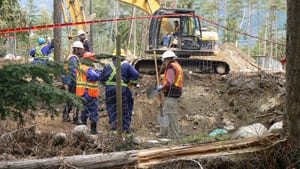 Moriarty says that while the scope and cost of the sled dog investigation were unprecedented in BC SPCA history, to ignore such disturbing allegations was not an option. "We are a charity and as such, we have to steward our resources very carefully," she says. "But we are also an enforcement agency with a mandate and a responsibility to respond to each and every complaint of animal cruelty that we receive. It was our duty to carry out a proper investigation into these allegations, as we would with any other case." She said the BC SPCA also recognized that the case would have far-reaching implications for working animals in B.C. and across Canada.
"This investigation was about uncovering the facts in a particular case of alleged animal cruelty that shocked people around the world," says Moriarty. "But it was also about ensuring that all sled dogs and other working animals are protected from suffering and abuse. Only by fully investigating these allegations could we send a clear message that we are a humane society where brutality and violence against animals will not be tolerated."
The BC SPCA was a key contributor to a government task force that was created last year to examine ways to ensure more humane treatment for sled dogs and to a new sled dog code of practice that adopted in February 2012.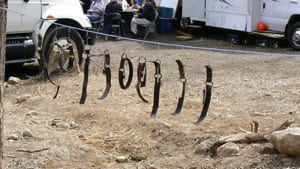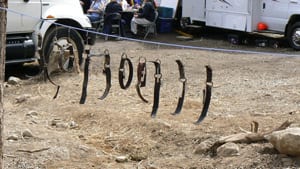 Moriarty says the BC SPCA is planning a memorial for the slain sled dogs this summer. "We have handled the remains of the dogs with the utmost respect and dignity and will be releasing details of the memorial soon." In the meantime, she says, the approval of charges is a huge step towards justice for the sled dogs who lost their lives. "By uncovering the truth we have spoken out for these animals. We hope that they will finally be able to rest in peace."
For more information: Marcie Moriarty, general manager, cruelty investigations, BC SPCA; 604-647-1318 (office) 604-258-8642 (cel); Lorie Chortyk, general manager, community relations, 604-647-1316 (office); 604-830-7179 (cel).
The BC SPCA conducts nearly 7,000 cruelty investigations a year and is reliant on donations from the public to continue its work. Your gift can help support investigations and bring abusers to justice. Please donate today.
The British Columbia Society for the Prevention of Cruelty to Animals is a not-for-profit organization reliant on public donations. Our mission is to protect and enhance the quality of life for domestic, farm and wild animals in B.C.