A Victoria-area man has been sentenced in a case of animal cruelty that resulted in Bryn, a female pit bull mix, being beaten with a baseball bat – so badly beaten, that her ability to walk was affected.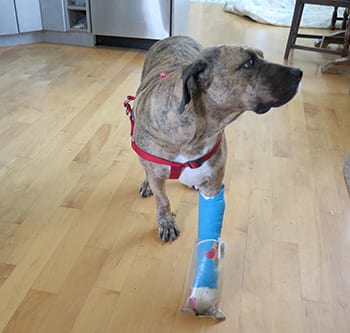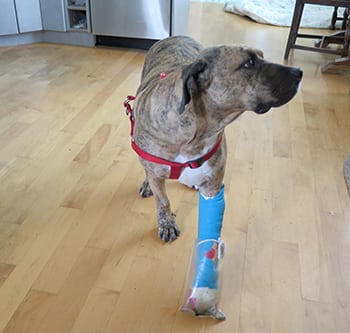 Following a BC SPCA cruelty investigation, Colwood resident Joseph White was convicted and found guilty on two counts under the Criminal Code of Canada: 445.1(1)(a), causing unnecessary pain/suffering to an animal, and 446(1)(b), owner failing to provide necessaries for the animal.
On Tuesday, White was sentenced to six months in jail for count one, two months in jail for count two (concurrent), and is also prohibited from owning any animals for 10 years.
"While it is very hard to say in violent cases of animal abuse like this one what a satisfactory sentence would be, we can say that at least he got jail time and a significant ban on owning animals," says Marcie Moriarty, BC SPCA chief prevention and enforcement officer.
Bryn suffered from multiple injuries to her legs, torso, head and teeth but, after being surrendered to the SPCA more than 24 hours after the beating, she was treated for her injuries and – after several months of recovery and rehabilitation – she is again, able to walk. She was eventually adopted by her foster family, who fell in love with the sweet, gentle and affectionate dog.
The British Columbia Society for the Prevention of Cruelty to Animals is a not-for-profit organization reliant on public donations. Our mission is to protect and enhance the quality of life for domestic, farm and wild animals in B.C.