Update May 23, 2023: Over 4,600 people signed the pledge to not attend the rodeo events at this year's Cloverdale Rodeo and Country Fair. We thank all those who signed for speaking up for animals used in rodeo! This pledge demonstrates that rodeo does not align with the values of many British Columbians.
If not already present, your municipality can adopt a bylaw to prohibit rodeos. We encourage you to reach out to your municipal elected officials and let them know you would like to see a bylaw implemented to prohibit rodeos in your community.
Original story: May 8, 2023
The BC SPCA is urging animal lovers to speak out against the rodeo events at the Cloverdale Rodeo and Country Fair, which is returning this year for the first time since 2019. The four-day event will take place over the May long weekend May 19-22 at the Cloverdale Fairgrounds in Surrey.
The rodeo will feature bareback riding, saddle bronc riding, bull riding, and ladies barrel racing. Mutton busting for children is also scheduled. While roping and wrestling events, the most dangerous for animals, will not take place, the other events planned for the rodeo still cause pain and distress for the animals.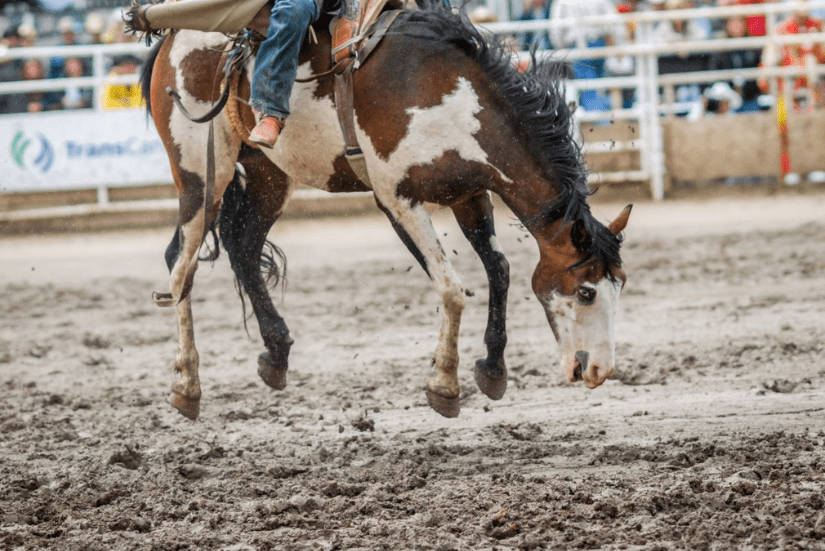 "As an animal welfare organization, we are opposed to the infliction of pain or suffering upon any animal for the purpose of recreation, sport, or entertainment," says Melissa Speirs, manager of farm animal welfare for the BC SPCA. "We do not support the use of animal handling and training techniques that use pain or fear to motivate behaviour change, which unfortunately occurs in many rodeo events."
Speirs notes that majority of British Columbians are opposed to using animals in rodeo, and that many communities throughout the province have made an effort to modify, exclude, or cancel rodeos altogether in recent years to limit the suffering these animals endure. Communities are instead focusing on the other events normally associated with rodeos, such as musical performances, marketplaces, food festivals, and carnival games and rides.
Saddle bronc, bareback, and bull riding are bucking events where a rider attempts to stay on a bucking horse or bull for eight seconds. "Scoring in these events is equally dependent on the rider and the animal. This means the more vigorous an animal bucks, the higher their scoring potential," explains Speirs. "To encourage the horse or bull to buck, a flank strap is placed around the hindquarters of the animal, applying pressure to their sensitive underbelly. The rider's score also increases the more they incite bucking by using metal spurs on their boots to prod the horse or bull."
"While bucking is a natural behaviour for these animals", says Speirs, "in rodeo events it is a forced behaviour rooted in discomfort and distress, not in play."
The BC SPCA is calling for more standards that dictate acceptable and unacceptable equipment and rider behaviour while barrel racing. Currently, a wide variety of equipment can be used in barrel racing that can cause pain to the horses, such as the use of harsh metal bits in a horse's mouth to better control them. "The BC SPCA supports positive reinforcement training with horses and we hope this approach becomes common in the future," says Speirs.
"We recognize that many of the animals used are well-cared for outside of the rodeo," notes Speirs. "We support this attentive care, but do not believe that the risk animals face while participating in rodeo events for the sole purpose of entertainment is justified by the level of care they receive when not performing." Horses and cattle that are bred and raised for rodeo still display many fear-related behaviours before, during, and after the event.
"B.C. has a long tradition of cattle ranching, and we believe these skills can be showcased through demonstrations of low-stress handling and horse-riding events that do not cause fear, frustration, anxiety, pain, or injury to animals," says Speirs. Cattle ranchers are required to follow the Code of Practice for the Care and Handling of Beef Cattle, where it is a requirement to use quiet handling techniques – this should also apply to the animals used in rodeo.
"We know that the return of the fair after three years is exciting for many, but we encourage people to not attend the rodeo events," says Speirs. The Cloverdale Country Fair features many other family-fun events outside of the rodeo – such as an amusement park, a wine garden, skateboarding shows, a lumberjack show, and an Indigenous Village. Only a small portion of event attendees watch the animal rodeo events. We encourage organizers to focus on these alternate fair events for the future, leaving animal rodeos in the past.
Please help event organizers understand that animal suffering is not entertainment. By signing this pledge, you are pledging not to attend the rodeo events at the Cloverdale Rodeo and Country Fair and voicing your concern for all animals used in rodeo.
Additional resources: