The BC SPCA's Chilliwack Branch is issuing a plea for donations to help offset the cost of eye surgery for a tiny grey kitten rescued near Vedder Road. The 10-week-old abandoned kitten, who has been named Angel by SPCA staff, requires a surgery known as enucleation, which removes the eye but leaves the eye muscles and remaining orbital contents intact. This type of ocular surgery is performed in cases where the eye has suffered severe trauma.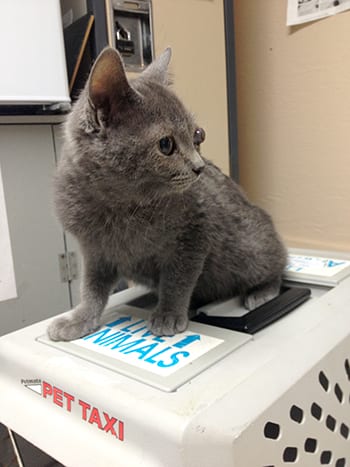 "We don't know how Angel sustained the injury but we would like to get her treatment as quickly as possible," says Ivanna Ferris, manager of the Chilliwack SPCA. "She is a sweet, gentle kitten who seems to know that we are trying to help her. We are hoping members of the public will help us with the cost of surgery, which is estimated at nearly $1,000." The SPCA will care for Angel during her recovery and will find a loving home for her once she is well enough for adoption.
If you can help, donations for Angel and other animals in need at the Chilliwack SPCA are gratefully received at the branch at 6797 Hopedale Road, Box 142, Chilliwack, B.C., V2P 6H7, by calling 604-823-6612, or online.
The British Columbia Society for the Prevention of Cruelty to Animals is a not-for-profit organization reliant on public donations. Our mission is to protect and enhance the quality of life for domestic, farm and wild animals in B.C.