The Sea to Sky SPCA Branch in Squamish is seeking help for a sweet brown tabby cat named Barnaby, after he was seriously injured in a dog attack.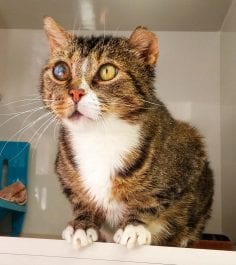 "Unfortunately he didn't receive medical treatment for his injuries when the attack occurred," says BC SPCA Sea to Sky manager Marika Donnelly. "By the time he was surrendered to us his condition had worsened." The sweet six-year-old tabby, who Donnelly describes as "an absolute mush ball", suffered a penetrating wound to his eye which has left it damaged beyond repair. In addition to needing surgery to remove his eye, Barnaby suffered facial trauma and has some painful, broken teeth that need to be extracted.
"He's extremely gentle and quiet; he has a kind disposition and just loves to be cuddled," Donnelly says. "We really hope people will help us get Barnaby the medical care he needs so that we can find him a new loving home as quickly as possible."
The medical costs associated with Barnaby's care are expected to reach $1,700. A non-profit organization, the BC SPCA relies primarily on public donations to help the province's most vulnerable animals.
If you can help Barnaby and other animals like him in need at the Sea to Sky SPCA, you can donate online or in person at 39901 Government Rd., Squamish.