Buttercup, a yellow Lab mix, was found running loose in Comox with suspicious injuries. She was brought to the BC SPCA and was immediately taken to a veterinarian. They determined that her leg had been broken in two places, had healed incorrectly and would need to be amputated.
Even though someone had cruelly taped Buttercup's muzzle shut leaving cuts across her face, she was still sweet and loving to everyone who met her.
Especially her new mom. Claudia read about Buttercup, now named Cami (Claudia's other rescue dog came with the name Brie, so she named Buttercup Cami, short for Camembert), in the local news and knew she had to meet her. She had imagined herself giving a forever home to a tripod dog for years and knew Buttercup was the one she had been waiting for.
"I had been considering retirement and when I saw Cami, I knew it was a sign," says Claudia. "I would be able to devote the time it would take for her to be rehabilitated."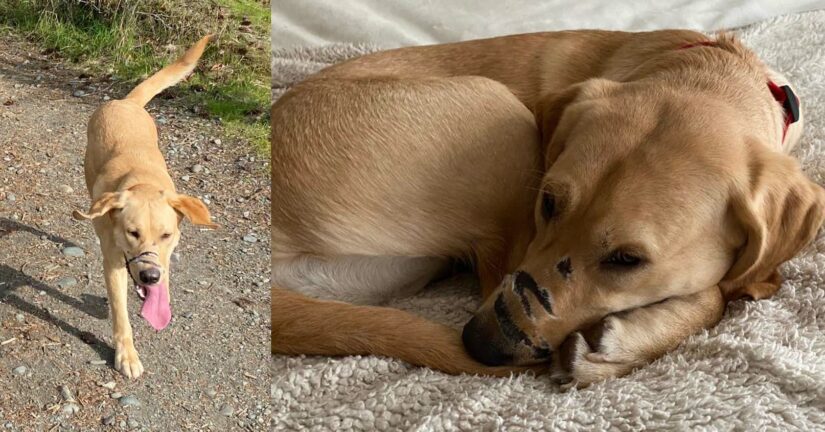 When Claudia went to meet Cami, she was surprised she was so affectionate considering everything she had been through. "She was rambunctious and full of energy. Typical puppy behaviour," says Claudia. The only time Claudia ever saw something that made her think of what Cami might have been through was when Cami saw some gardening shears outside. "I watched her as she ran around the garden shears, barking at them. I don't know what they meant to her, but she was definitely triggered by them."
Claudia and Cami have been working with a physiotherapist and have had a follow-up appointment with the veterinarian that did the amputation. "We are making sure we don't put too much stress on her other legs," says Claudia. "We want to do everything gradually."
Cami has been moving well and loves to run with Bree. Claudia has a friend who has a chocolate lab named Addie who often comes to her house to stay that Cami has really bonded with. "Addie has just been this nurturing, best friend for Cami," says Claudia. "Cami tries to keep up with him and Bree, but she gets tired easily. We are helping her figure out how to get up onto things which is still a challenge."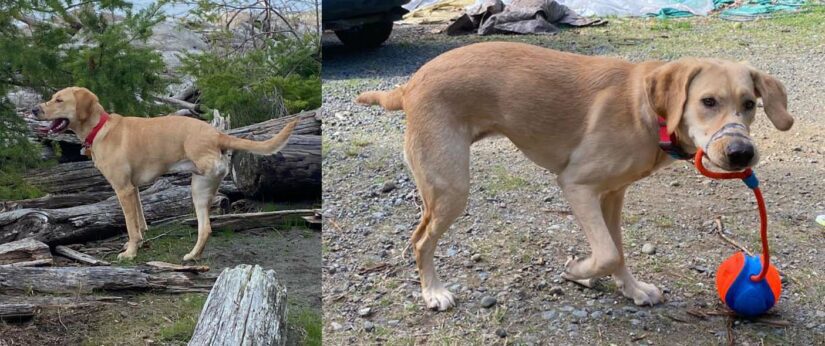 Claudia adds that Addie taught Cami to swim. "Cami loves the beach, but she wasn't too sure about going in the water. Addie came along for a walk and went straight in, and Cami followed her. She wouldn't have gone in without Addie."
The one thing that has surprised Claudia the most about having Cami in her life? Hanging out with a dog that is a local celebrity! "Cami is recognized everywhere we go. Everyone has read her story and knows who she is," says Claudia. "She loves the attention. I thought she might be afraid of people, but she thinks everyone is her friend. If she sees someone and they don't come up to say "hello" she looks up at me with a 'where are they going?' expression on her face."
BC SPCA helps rescued Labrador retriever found with muzzle taped shut, injured leg
Original story: February 16, 2023
Buttercup, a yellow Lab mix suffering from suspicious injuries, is in BC SPCA care after being found running loose in Comox.
"Someone had taped her muzzle shut, leaving cuts right across her face," says Alina Wilson, senior officer of digital giving for the BC SPCA. "Her leg had also been previously broken in two places and had healed incorrectly. Unfortunately, she will require amputation for her full recovery." In addition, Buttercup is underweight and is being treated for giardia.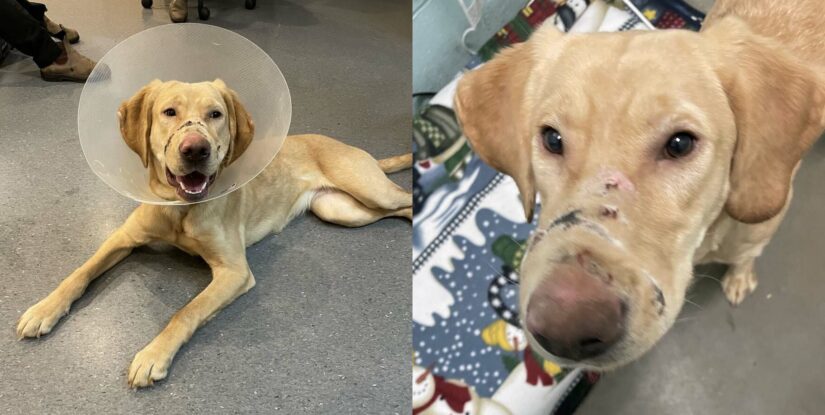 "Despite all Buttercup has been through, her personality is as warm and happy as her name," says Wilson.
BC SPCA animal protection officers have opened an investigation into the case and urge anyone with information to please contact the BC SPCA's Animal Helpline at 1-855-622-7722. "Through the love and care of our staff and volunteers Buttercup is on the road to recovery and is expected to be available for adoption in the next few weeks," says Wilson.