A dog who came to the BC SPCA's South Peace Branch suffering from a gunshot wound to his right hind leg is now recovering from surgery. Brownie, a six-year-old border collie and St. Bernard mix, had pins put in his leg to keep the bone in place while it heals.
The vet was able to closely examine the injury and believes that Brownie's condition went untreated for one to two months. Our hearts go out to Brownie, who was living outside in the cold with his untreated injury causing him extreme pain for such a long time. His body had built up so much scar tissue around the bone trying to heal the injury that it made the surgery very difficult.
Brownie's wound went untreated for so long that he now faces a greater risk of complications including infection and delayed healing. He will require more specialized care to help him recover. SPCA staff are applying a cold pack covered in a towel on Brownie's leg two to three times per day for the first 72 hours after surgery to minimize swelling. Brownie will need physiotherapy to help his leg maintain normal joint motion and improve circulation to help him heal.
Brownie will not be able to play with other dogs or run around for at least two months. He will need to rest in his kennel without any exercise aside from going out to do his business. Brownie will be on pain medication, antibiotics to prevent infection and anti-inflammatory medication to help with the pain and swelling in the leg.
The fracture will need about three months to heal. Brownie will then need radiographs at the vet to ensure the bone has healed and have his pins surgically removed.
Thank you for your support in helping this docile and loving dog get back on his paws.
Brownie was shot and needs your help to heal
Original story: Jan. 24, 2020
The BC SPCA's South Peace Branch is seeking your help with medical costs for Brownie, who is being treated for a gunshot wound that fractured the shinbone in his right hind leg.
This six-year-old border collie and St. Bernard mix is going in for surgery to remove the fragment of the bullet in his leg and repair the fractured bone. The vet estimates that Brownie's wound is at least a week old, which means this poor dog has been in agony for days.
Brownie is underweight and came into care with a very matted coat with a rash around his neck and under his ears. His coat will need to be completely shaved and is being treated for a heavy flea infestation. Brownie was in so much pain that he stopped eating. He is currently receiving medication to manage his pain and quickly regained his appetite in SPCA care.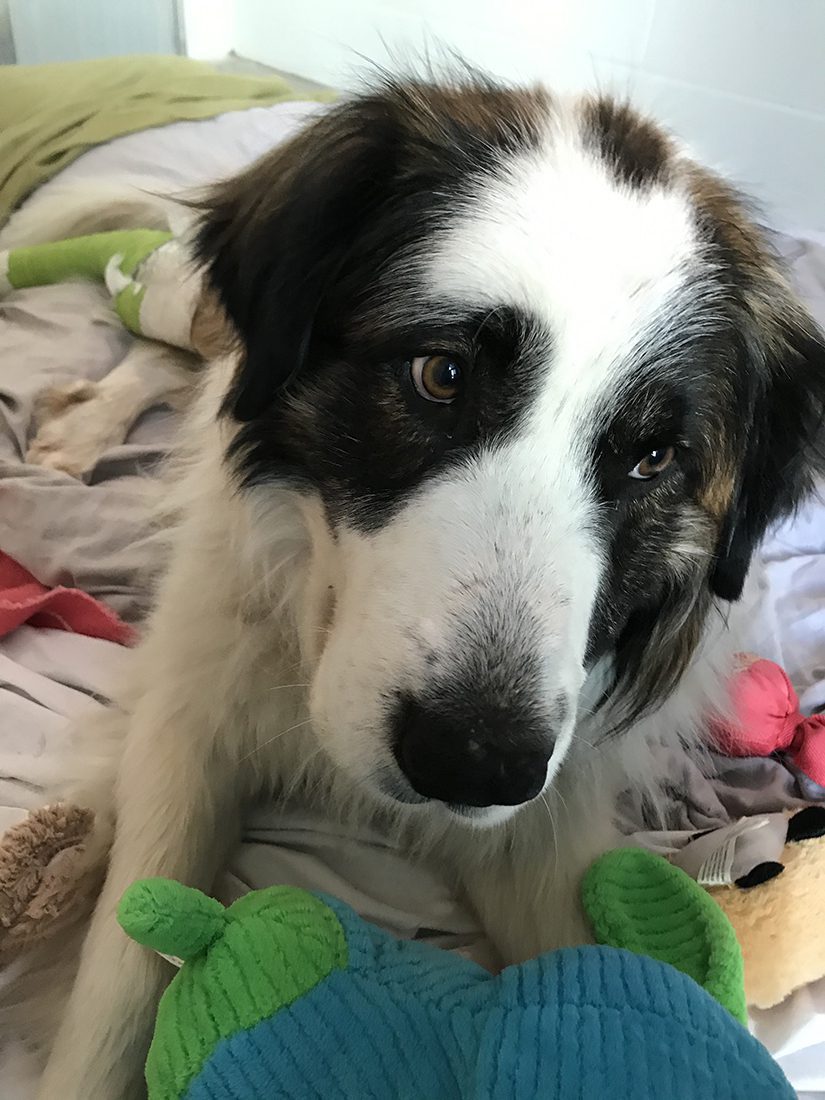 "Brownie is a very docile and loving dog. His calm and very sweet temperament shines through despite the extreme pain he must be experiencing right now," says branch manager Wendy Davies. "He is quickly adjusting to living indoors and his highly social personality is blossoming as he is surrounded by people who are giving him lots of attention."
His cost of care is expected to reach $6,030. Brownie will need about two months to recover from his injuries in a foster home recovering before he is ready to be adopted.
If you can help Brownie and other animals in need at the South Peace SPCA, please visit spca.bc.ca/medicalemergency or visit the branch at 11418 3 Street, Dawson Creek, 250-782-2444.