A Boston Bar man whose three dogs were kept in a filthy dwelling and never allowed outside has been charged with animal cruelty.
Delbert Margetts has been charged under the Prevention of Cruelty to Animals Act after BC SPCA constables found his three dogs living in deplorable conditions inside a home in Boston Bar.
"These dogs were forced to live in utterly horrific conditions," says Marcie Moriarty, general manager of cruelty investigations for the BC SPCA. "They were confined to rooms covered from wall to wall with fecal matter, garbage, debris, cobwebs and mould."
One dog was locked in a bathroom 24 hours a day; the other two dogs had access to a 300-square-foot room.
The dog in the bathroom, a female shepherd mix named Sage, was given only a urine-soaked outdoor chair cushion to get off the feces-coated floor. The ceiling above her buckled, exposing a thick layer of mould.
In the other room, two pit bull terrier mixes were found on a feces-covered plywood floor; the floor and everything else in the room, including various garbage and debris, were also soaked in grease and dust. A single dirty blanket provided the only reprieve from both old and fresh fecal clumps and stains.
The BC SPCA worked with local RCMP on the initial investigation. BC SPCA constables obtained a search warrant and seized all three animals on Dec. 22, 2009.
"Orders to address the dogs' living conditions and their health were ignored," says Moriarty. "Our next step was to seize the animals and recommend charges. We're pleased the charge was approved by Crown counsel and we're anxious to obtain justice for these dogs."
The PCA act carries a maximum penalty of $5,000 for a first offence and $10,000 for a second offence, up to six months in jail and a ban on owning animals for a period determined by a judge.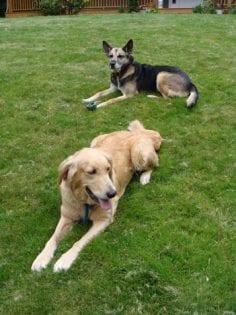 As for Sage, she's got a new lease on life, after being adopted by a Chilliwack family in February. She now spends her days racing around with her canine housemate, a rescued golden retriever named Hannah, in their expansive back yard, or curling up under a desk at the feet of her new work-at-home guardians.
The British Columbia Society for the Prevention of Cruelty to Animals is a not-for-profit organization reliant on public donations. Our mission is to protect and enhance the quality of life for domestic, farm and wild animals in B.C.