Have a bookworm in the family? How about an animal lover?
Both passions come together in the BC SPCA West Vancouver Branch's Book Buddies program, a huge after-school hit with local youth and readers of all ages since it started in 2014.
From 3 to 4:30 p.m. Monday through Friday throughout the school year, children and anyone who is interested can come and read to the cats, kittens – and sometimes, rabbits and other small animals – in the cat rooms at the West Vancouver BC SPC Branch.
"It doesn't matter if you're six or 90 – it's great enrichment and stimulation for the cats and it helps socialize them as well," says BC SPCA West Vancouver Branch manager Krista Unser.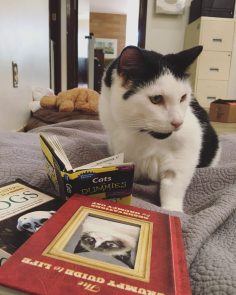 "Book Buddies benefits the animals and often, the children too – if someone is struggling with their reading, they can come and practice here. The cats won't judge or care, so it's a low-stress environment."
Local Mom Laura and daughters Sofia and Chiara are regular visitors at the West Vancouver SPCA for Book Buddies, usually coming straight from school to spend time with the animals and their favourite books.
"It's one of my favourite things to do after school," Sofia says, explaining she has always loved animals and, when she was working on a school project last year about animal health, she interviewed BC SPCA West Vancouver Branch staff and staff at a local veterinary hospital to learn more about how animals are cared for.
"They just love being here and playing with the animals – we have two lovebirds at home but they both really love all animals," Laura says.
"It's a win-win all around – they get to practice their reading and spend time with the animals they love – they're both good readers but it doesn't matter if they make mistakes or not – and the animals get their love and affection and lots of play time."
Reading session usually run for a half-hour at a time per cat room.
"We're really pleased – it's been a really successful program and it's always nice to see regular readers as well as new faces," Unser says. "You never know – you might come for Book Buddies and end up falling in love with one of our adoptable animals and bringing them home."
Call the branch at 604-922-4622 or email BC SPCA West Vancouver Branch wvan@spca.bc.ca to schedule your Book Buddies reading session.