UPDATE: Salmonella outbreak continues, BC SPCA asks public to remove bird feeders until warmer weather in April-May.
Wildlife rehabilitation centres in the Lower Mainland are seeing another increase in pine siskins admitted due to Salmonella – most of them admitted in the last week. Wild ARC in Victoria continues to admit smaller numbers of pine siskins, as well as a few finches with conjunctivitis – another illness commonly spread by gatherings at bird feeders. Reports of sick birds have also been received from the interior, including Penticton and Kelowna.
The BC SPCA is asking the public to keep their bird feeders down until April-May to help stop the spread of this deadly outbreak.
Hummingbird feeders are not at risk at this point in time, but this is a good reminder to regularly change and clean hummingbird feeders to prevent deadly fungal outbreaks. Learn how and when to change the nectar solution, and how to clean your feeder to keep these beautiful birds healthy and safe.
Original story: January 25, 2021
The BC SPCA is asking the public to temporarily remove backyard bird feeders in order to stop the spread of a deadly salmonella outbreak that has spread throughout the province. The outbreak is affecting pine siskin birds specifically.
"2021 has gotten off to a rough start for pine siskins on southern Vancouver Island and the rest of the province with a deadly outbreak of salmonella," says Andrea Wallace, manager of wild animal welfare.
So far in January, the BC SPCA's Wild Animal Rehabilitation Centre (ARC) has admitted 43 pine siskin birds with many of them showing signs of disease but few surviving.
"Salmonella is a severe and contagious disease so we're asking people to temporarily remove, or at the very least clean, their bird feeders and bird baths to prevent further spread of the disease," says Wallace.
The BC SPCA recognizes that bird feeding, though a popular activity, carries risks. Backyard bird feeders can facilitate the spread of disease, provide inadequate nutrition and increase the risk of window strikes, predation and conflicts with other wild animals.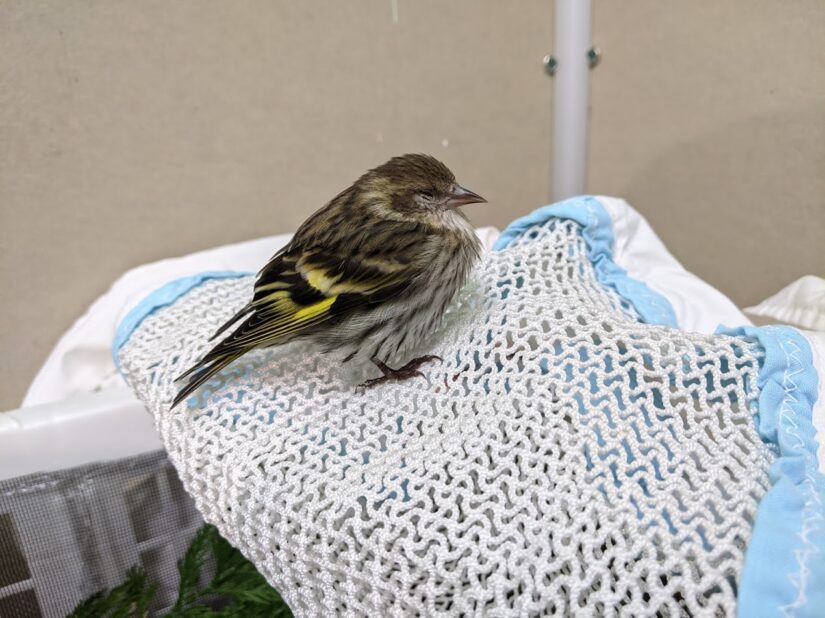 Prevent disease outbreaks by regularly cleaning your feeder:
Discard any remaining seed before cleaning
Wash feeder with soap and water – use a bottle brush for small spaces
Wash feeder again with a 10% bleach solution for three minutes
Rinse and air-dry completely
Fill with fresh seed
Repeat #1-5 every two weeks
Except for liquid feeders (e.g. hummingbird nectar feeders), the BC SPCA recommends only providing bird feeders in winter between October and March. In the spring and summer months, there is lots of natural food for birds.
If you see sick birds at your feeder or in the area, immediately remove or clean your bird feeders to help curb the disease. Sick birds may appear lethargic, unusually "fluffed up", and show signs of irritation around the eyes. Contact the BC SPCA at 1-855-622-7722 for advice or for help finding your local wildlife rehabilitation centre.
More like this
Get the facts on backyard bird feeding