Thanks to a $5-million boost from the provincial government earlier this year, the BC SPCA's Facilities Development and Services Plan is moving forward, ahead of time and on budget. The eight-year strategy, totalling $50.4 million, outlines plans to replace or renovate aging SPCA facilities in 10 communities across B.C.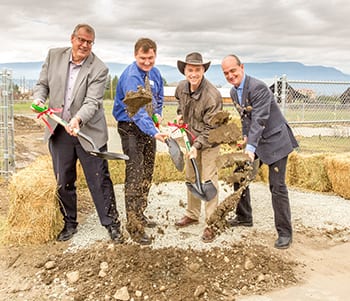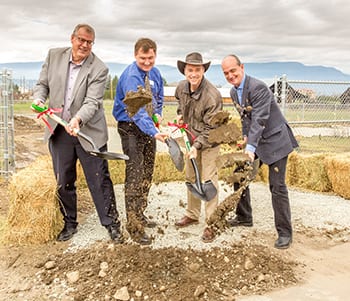 All of the facilities scheduled for replacement are between 30 and 55 years old and require capital improvements in order to meet the growing demand for SPCA services and to ensure excellent care and welfare for the province's most vulnerable companion and farm animals.
"On Sept. 1 we broke ground for a new $3.4 million, 7,460-square-foot Community Animal Centre in Nanaimo," said BC SPCA chief executive officer Craig Daniell.
He noted that new building will incorporate modern designs to ensure the highest levels of health and welfare for animals, including shared "apartments" for dogs to encourage natural movement and socialization, communal indoor-outdoor areas for cats, designated areas for temperament and behaviour assessments and specialized isolation areas for sick and injured animals. The centre will also have multi-purpose space for SPCA youth camps, workshops and other events for the community and will serve as a transfer hub to move animals in need from remote areas of the island to SPCA shelters for treatment and adoption.
In Kelowna, construction of a new, 2,500-square-foot large-animal seizure barn has been completed and will be officially opened on Oct. 14. The barn, situated adjacent to the existing BC SPCA Kelowna shelter, includes six indoor-outdoor stalls, a tack room and a hay storage area. Last year, a large-animal seizure barn was also constructed at the BC SPCA's Surrey Branch and has been used extensively to shelter and rehabilitate seized farm animals. Both facilities were made possible, in part, through funding from the provincial government.
While Surrey, Kelowna and Nanaimo were identified as high-priority projects in the plan, planning has begun on the development of new facilities in the West Kootenays, Dawson Creek, Vancouver and Kamloops.
"We are so grateful to the government and our donors, and to everyone who has enabled us to provide the best possible shelter and welfare for all animals in our care," Daniell says. "The facilities plan, and any funding that supports it, will help us to ensure we maintain and improve the care we provide to British Columbia's abused, injured and neglected animals as we move forward."
The British Columbia Society for the Prevention of Cruelty to Animals is a not-for-profit organization reliant on public donations. Our mission is to protect and enhance the quality of life for domestic, farm and wild animals in B.C.