The BC SPCA is urging British Columbians to speak out against grizzly bear hunting across the province. The public has until Nov. 2 to provide input to the B.C. government on two policy documents outlining proposed changes to the grizzly bear hunt.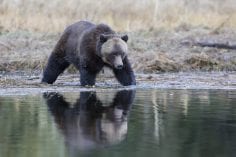 "This summer the B.C. government announced it will end all hunting of grizzly bears in the Great Bear Rainforest, effective Nov. 30, 2017, but in the rest of the province the ban will only apply to trophy hunting," says Dr. Sara Dubois, chief scientific officer for the BC SPCA. "This means that the provincial government will still regulate a "meat hunt" of grizzlies instead of a full provincial ban."
The BC SPCA supports a total, province-wide ban on grizzly bear hunting. "The grizzly bear is a vulnerable species in B.C., their population numbers are uncertain, yet hunting them is still legal," says Dubois. "With increasing pressures from forest fires, declining salmon stocks and climate change, protecting grizzly bears has never been more important." Dubois adds that, without a full ban, trophy hunters can still get their digital "trophy" posing beside bears they have killed.
"A total ban will respect Indigenous laws of the Coastal First Nations, will preserve the cultural and ecological importance of the bears and their ecosystem and will promote world-class ecotourism," says Dubois.
The BC SPCA was one of 38 environmental and animal welfare organizations and wildlife-based businesses that sent an open letter to the B.C. government (PDF) on Oct. 6 opposing the grizzly bear meat hunt.