A tiny kitten abandoned at a construction site in Abbotsford must lose one of his legs.
Harry, discovered with siblings Ron and Ginny and brought to the Abbotsford SPCA by a Good Samaritan on the job site, has a broken leg that must be amputated in order for him to grow up pain-free.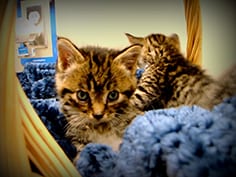 "Harry is such an adorable kitten who deserves a fair chance at life," says Abbotsford BC SPCA Branch manager Sarah Ringer. "Despite his injury, he's still so sweet and loving, with a ton of personality!"
The medical costs associated with Harry's care are expected to reach nearly $2,000. A non-profit organization, the BC SPCA relies primarily on public donations to help the province's most vulnerable animals.
Harry, who is only six weeks old, will be available for adoption after his surgery and recovery, Ringer notes.
"We just want this lovable little guy to have the chance to live out the rest of his nine lives as a happy, active cat," Ringer says. "Even missing a leg, he'll make an amazing 'tri-pawed' furry family member."
If you can help Harry and other animals like him at the Abbotsford SPCA, you can donate online at spca.bc.ca/medicalemergency or in person at 34312 Industrial Way, Abbotsford.