They were found tied to a picnic table in front of the BC SPCA's North Cariboo animal centre in Prince George. Asha and Saki, two one-year-old husky mix sisters, were abandoned overnight just outside the range of the BC SPCA's security cameras with porcupine quills embedded in their faces.
"When animal centre staff arrived at seven a.m., the two dogs began to cry and cower at the picnic table. As they got closer to the dogs, the staff noticed the quills sticking out of their mouths and knew they needed to rush Asha and Saki to the emergency vet clinic for treatment," says Kristen Sumner, manager of the BC SPCA's North Cariboo community animal centre.

The porcupine quills were buried deep in the dogs' gums and nostrils. "Saki had wounds all down the side of her face. She required sedation to remove the quills and the infected tissue on her neck and jaw," says Sumner. "Asha was also sedated to remove quills in her nostrils and gum lines." During the procedure, the veterinarian found a huge abscess on the top of Asha's muzzle from a quill that had lodged into the roof of her mouth.
These sweet sisters went through so much, but their story has the happiest ending.
Kevin, saw Saki (now Koda) on the BC SPCA's website. He had adopted a husky from the Langley animal centre about 20 years ago. Something about Koda's face brought back those happy memories and he fell in love with her.
"I immediately sent in an adoption application and we set-up a meeting," says Kevin, Koda's new dad. "It went so well. We brought along our Jack Russell terrier mix Max who is 10 years old. He had been depressed because our chihuahua cross Taz had died recently, so we were thrilled that they got along." Kevin adds that Max is a different dog now that Koda has joined the family. "They love to chase each other around the yard."

"Koda is just so happy; everything is exciting to her" says Kevin. "Her favourite toy is anything she can chew on with a squeaker. She just loves to tear the toy apart and take the squeaker out. She loves the sound."
Kevin says he had no idea that Koda and her sister Asha had been in the news and were well-known in the community until he brought her into the vet clinic for a check-up and to get her rabies shot and she was recognized by an animal control officer. "She has been through so much and is still the most loving dog. We just want to give her the best life possible."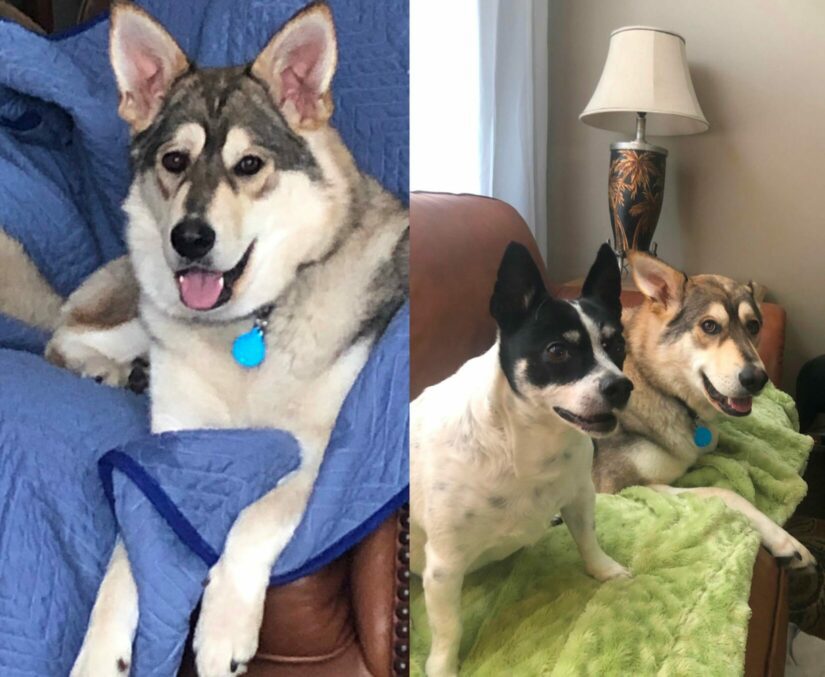 So, what happened to Asha, Saki's sister?
"Our family was looking for a dog and had read about Saki and Asha in the news," says Teah, Asha's new mom. "We went into the room to meet them at the Vernon animal centre and Asha ran right up to me and put her paws on my shoulders. She picked me."
Asha was a bit nervous and timid when they first got her home. "I think she was worried she wasn't going to be staying here," says Teah. But she settled in quickly and immediately bonded with Teah's eight-year-old and newborn sons Theodore and Atlas. "We were very careful when we introduced Asha to the baby, but she matched my energy and became so calm. She crawled on the bed to get closer to him and gave his head the gentlest sniff." Teah adds that Asha sits at the door to the baby's room every day waiting to be let in to say, 'good morning'.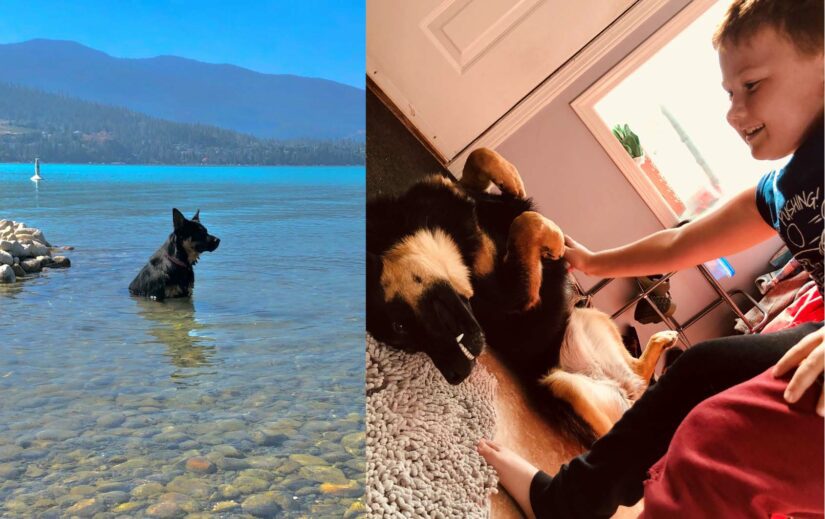 Now, Asha's days are filled with walks, cuddles and naps -not to mention play time with Theodore. "Asha wants all of the affection," says Teah. "She loves me to carry her and she climbs all over my partner Dylan."
"These beautiful, soulful dogs went through so much, but they have both found their forever homes," says Teah. "I grew up with adopted dogs and I am just so happy Atlas and Theodore will get a chance to grow up with Asha."