The Burnaby Branch of the BC SPCA is hoping the public can help provide information about a dog stolen from the shelter on May 24.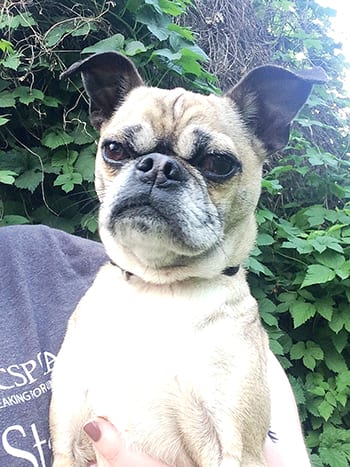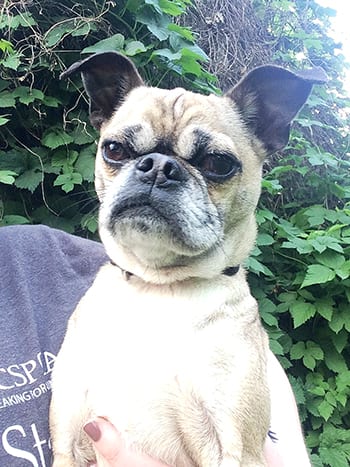 "Ninja, a Boston terrier-pug mix, originally came into SPCA care after he was found abandoned in Central Park," explains Ryan Voutilainen, manager of the Burnaby SPCA. "A Good Samaritan waited with him for some time in the park hoping a guardian would return, but when no one came looking for him she brought him to the SPCA."
Ninja showed signs of a neurological issue but after consultations at Canada West Vet Specialists and Western Canada Veterinary Eye Specialists, it was determined that Ninja had been born with the condition and did not require treatment or medication. "We put up him up for adoption on May 19 and a few days later, on May 24, a Caucasian female came to the shelter enquiring about him," says Voutilainen. "She completed the dog-walking form to take him out for a short visit and left her purse and keys with our reception. When she did not return, our staff discovered the purse did not contain a wallet and the information on the dog-walking form had been falsified, so were unable to track her."
Voutilainen says the BC SPCA has filed a report with Burnaby RCMP and is hoping that others may know something about Ninja's whereabouts.
He notes that Ninja has a visible identification tattoo and a microchip registered with the BC Pet Registry, linking him back to the Burnaby shelter. Anyone with information is asked to please contact the Burnaby RCMP (file number 2016-23049) or the Burnaby SPCA at 604-291-7201.
The British Columbia Society for the Prevention of Cruelty to Animals is a not-for-profit organization reliant on public donations. Our mission is to protect and enhance the quality of life for domestic, farm and wild animals in B.C.