A recent intake of 21 healthy golden retrievers, including 17 puppies, is the latest in an influx of dogs coming into BC SPCA locations in recent months.
"The BC SPCA is dealing with a record number of large-scale intakes of dogs and puppies, as individuals who set up breeding operations during COVID are closing down their operations," says Eileen Drever, senior officer, protection and stakeholder relations for the BC SPCA. "People were very keen to get pets during the isolation of COVID and we saw an increase in the number of people breeding animals during that time. Now that people are back to work and to their regular routines, the market has dropped off and we are getting calls for help from breeders who are overwhelmed with the number of animals in their care."
She notes that, in addition to those who pro-actively seek SPCA help, the Society's animal protection officers are seeing an increase in complaints to the BC SPCA Helpline about the neglect of animals by overwhelmed breeders.
The 21 golden retrievers were surrendered by a breeder near Quesnel. "The individual did the right thing for the dogs by reaching out to us so that we could find new, loving homes for them," says Drever. "We always want people to contact us if they need help, but the surge in large-scale intakes is definitely putting a strain on our resources." She notes that young animals in particular need extra care and attention. "This places pressure not only on the staff and resources in our facilities, but on our network of foster families, who help us care for these animals."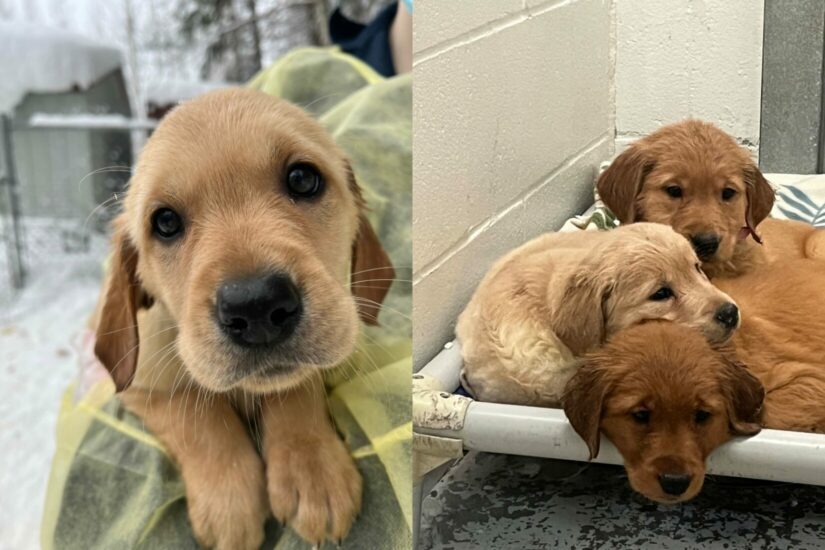 Drever says the Society is currently dealing with a number of files involving potential large-scale intakes. "We know that there are so many dogs out there who need to come in. Our goal is to find space for these animals as quickly as possible so that we can bring them into our care and get them on the path to their new life. We really need the public's help to make this happen."  The puppies have been moved to various SPCA locations and are awaiting medical clearance before being placed for adoption.
The BC SPCA receives no government funding and relies on community support to help animals across B.C.
See animals available for adoption