As wildfire season escalates in B.C. the BC SPCA is rolling out emergency response plans to help pet guardians and their animals impacted by the fires.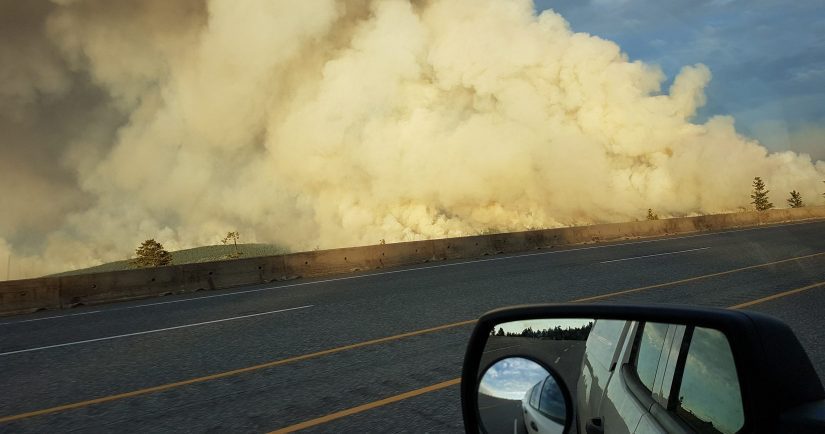 "We are here to provide emergency boarding of pets and are distributing pet food and other supplies for pet guardians who have had to leave their homes under evacuation orders, or as in the tragic case in Lytton, were forced to flee from the fires," says Lorie Chortyk, general manager of communications for the BC SPCA. "This is such a stressful time for these poor families and we want to provide all the support we can with their pets so they have one less thing to worry about."
Chortyk says the BC SPCA made help available to residents in the Castlegar region impacted by the Merry Creek wildfire, but the main centre of activity has been in Kamloops, where the Sparks Lake wildfire has been raging since June 28 and now covers 20,000 hectares. The Juniper Ridge fire, which forced the evacuation of residents on Capilano and Nechako Drives in Kamloops on July 1, is still being monitored.
"The BC SPCA in Kamloops has been working with the Thompson-Nicola Regional District and its ESS team to reach out to pet guardians who need help," says Chortyk. "We began transferring shelter animals out of our Kamloops facility on July 1 to nearby SPCA shelters in Shuswap and Vernon to free up space for incoming pets for emergency boarding, and we have reached out to our foster network in the area to help as well."
Chortyk says anyone needing emergency boarding or other assistance is asked to call the BC SPCA Animal Helpline at 1.855.622.7722, which is staffed daily between 9 a.m. and 6 p.m. After hours please contact your closest ESS 1.800.585.9559 or call back the Animal Helpline after 9 a.m. PST the following day.
"We are also in urgent need of leashes, bowls, treats and other pet supplies for incoming animals," says Chortyk. If you can help, please drop off donations outside the main door of the BC SPCA Kamloops & District location at 2816 Tranquille Road.
The BC SPCA is monitoring the wildfire situation across B.C. and preparing to deploy staff and emergency resources as needed.