UPDATE: It has been almost a year since the federal Minister of Agriculture was given the mandate to end the live export of horses for slaughter. Approximately 2,000 horses have been transported since this announcement, while Canadians wait for action from the federal government. Despite the overwhelming numbers of Canadians who signed the 2021 e-petition during the last session of the government, the election was called before an official response. A new petition e-4190 launched on November 9, 2022 is renewing calls for action, and it has already been signed by thousands of Canadians. Even if you signed the previous e-petition, you are encouraged to sign this latest version.
The BC SPCA has contacted the Minister to urge action on this issue. We encourage you to also reach out to the federal Minister at Marie-Claude.Bibeau@parl.gc.ca.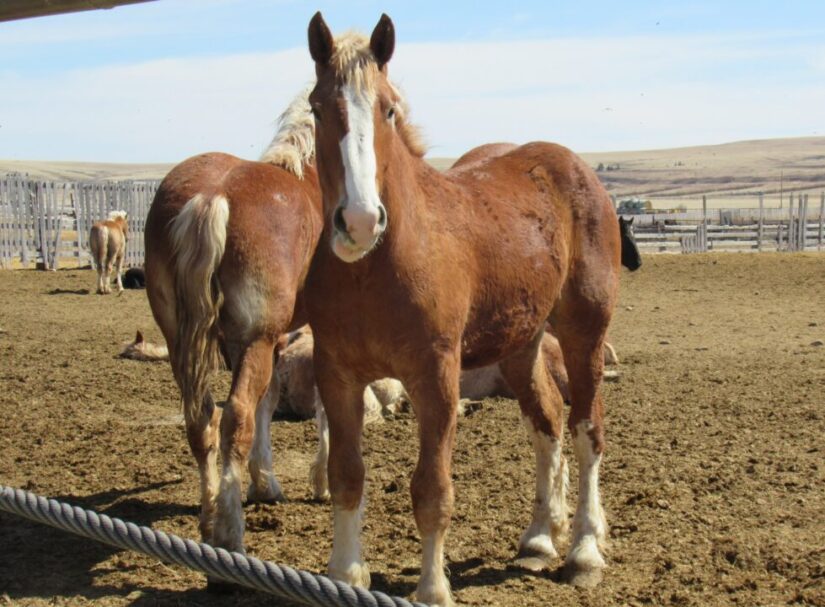 June 2, 2022 UPDATE: The federal petition to ban the shipping of horses overseas for slaughter has now closed. More than 77 thousand Canadians voiced their concerns, making it the most-signed federal e-petition relating to animals in history! Banning live horse export was included in the Prime Minister's mandate letter to the Minister of Agriculture, Food and Fisheries.
Original story:
Most Canadians don't know that Canada is one of the only countries in the world that breeds, raises and transports horses overseas to be slaughtered. These gentle draft horses are bred and raised in feedlots in Canada and are exported by plane on journeys that can take more than 20 hours. Since 2013, more than 40,000 horses have been exported out of Canada.
"Canada recently updated their transport laws, which previously allowed horses to be transported for 36 hours at a time," says BC SPCA's Melissa Speirs, manager of farm animal welfare. "Canada's current animal transport laws are still inadequate. It is currently legal for horses to be transported without feed, water, or rest for up to 28 hours."
The long journey begins when horses are loaded onto trucks and driven to Calgary, Edmonton, or Winnipeg airports where they may sit on the tarmac for hours before being loaded. According to Speirs, before being loaded on the plane, three to four horses are put into a single shipping crate smaller than the average horse stall.  As a result, "With such close quarters, horses can easily injure one another or lose their balance and be unable to get back up."
The flight is between 10 to 13 hours and may stop to refuel in Alaska, adding two to three hours to their long journey. For international export, the typical time without feed, water, and rest for these horses is 20 to 22 hours.
Current international airline transport regulations require horses to be able to stand in a comfortable position without coming into contact with the top of the crate, but eyewitnesses often report that crates are too short for the horses to stand comfortably without their ears touching or pushing through the top of the crate.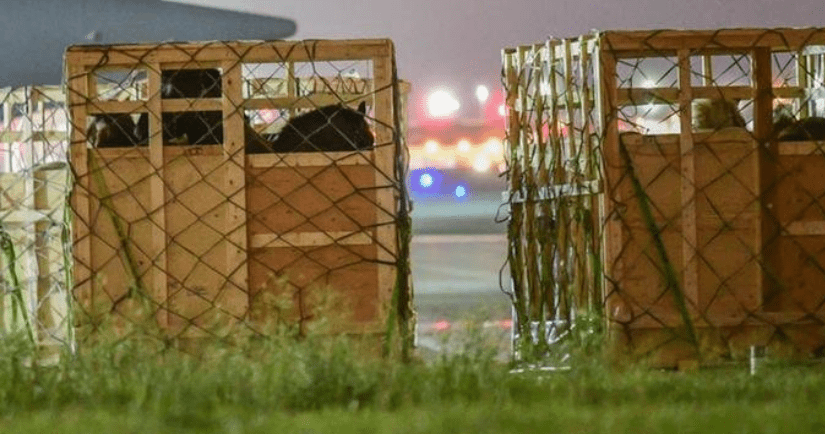 "The BC SPCA strongly advocates that no animal should be transported without feed, water, or rest for more than eight hours, and that horses should not be shipped by plane under these cramped and stressful conditions," says Speirs.
Horses are a species that has evolved to graze and would normally spend over 65 per cent of their day eating. When horses are not fed regularly, they are at a much higher risk for painful and life-threatening conditions such as gastric ulcers and colic, and will show signs of stress.
The BC SPCA supports the Canadian Horse Defense Coalition's work towards ending the live export of horses for slaughter.  Most recently, the BC SPCA joined them and other animal protection organizations in sending an open letter to the federal government urging action on this issue.