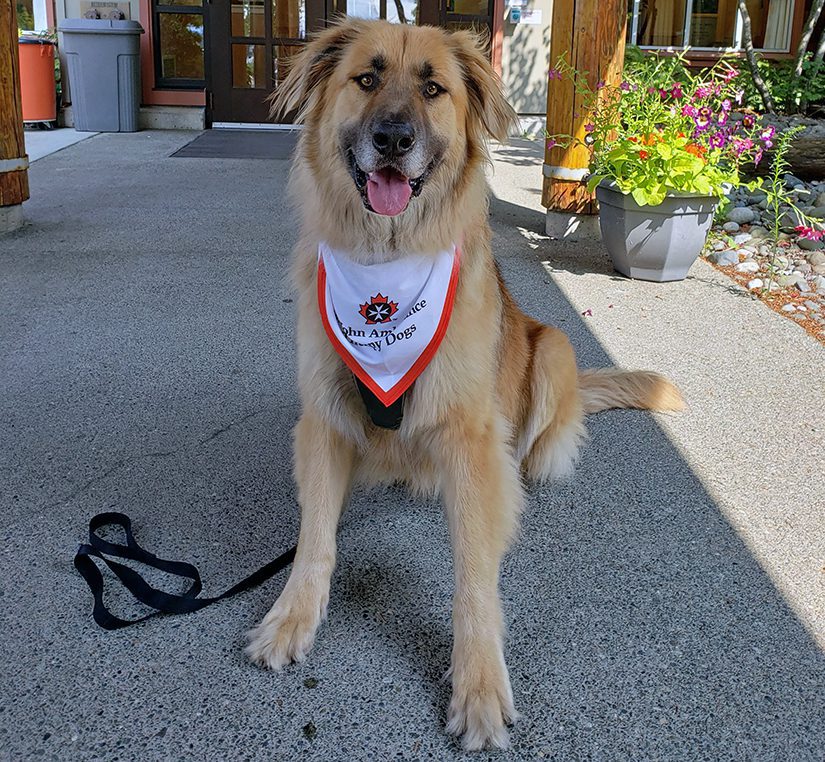 Audi is a big, friendly, four-and-a-half-year-old, 120lb therapy dog. He has always had a calm and gentle demeanour. "I always call him my gentle giant," says his guardian, Selby Pellow. "Ever since he was a puppy, he's always been sweet and kind." Pellow thought he would make a perfect therapy dog and started the training process to be certified through the St. John Ambulance Therapy Dog Program.
The training process helps dogs become accustomed to unfamiliar sights and scents such as being around wheelchairs, walkers, being pet by multiple people at the same time, and the smell of hand sanitizer. The dog and the handler make up a therapy dog team which is then evaluated to determine suitability. Audi passed his test in March 2019. He and Pellow now visit a local long-term care facility in Campbell River once a week in addition to taking part in community events.
"It's been really nice to see the smiles on the residents' faces every week and Audi loves it. He will do his favourite trick, 'shake a paw,' and everyone claps for him," she says. "Audi's a very big dog so it's nice that some of the residents who are in wheelchairs don't have to reach down to be able to pet him." He enjoys watching the residents partake in shuffleboard games or indoor curling and is always ready for a cuddle or pet when the time comes.
Pellow has met some folks who have had animals with them for their entire lives but are not able to have pets with them in the facility. "It's really nice for them to be able to pet and cuddle him but also be able to converse with me. Audi and I make a great team." Therapy dogs provide a psychological, physical and emotional benefit to those they visit.
The visits are also an opportunity to tell others about the importance of adopting a pet from the BC SPCA and giving them a better life. Pellow adopted Audi as a puppy from the BC SPCA North Peace Branch back in 2015 when she lived in Fort. St. John.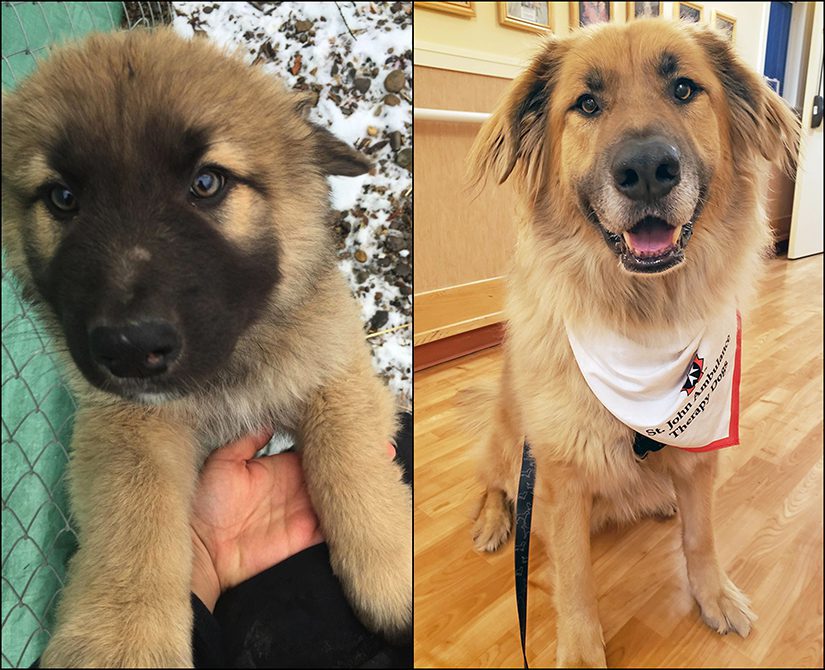 She had never had a dog before and was visiting the branch to drop off a donation for the cats when she spotted an adorable puppy. "Audi looked like a bear cub – he was so big and fuzzy, I fell in love immediately," she says. "All animals have special stories that are unique to them. I feel that sharing Audi's story reminds people that shelter dogs can have these amazing lives; they just have to be given a chance. Animals have so much love to give and are so appreciative for having a loving home. This is especially true for rescue dogs; they know you saved them."
When Audi was a puppy, although he was fitting in well with his new family, something seemed wrong. Their energetic little puppy would flop down in the snow and refuse to go for walks. After short amounts of exercise, he was very stiff and had trouble standing up. After X-rays at the vet, he was diagnosed with severe hip dysplasia at six months old. Audi was referred to Guardian Vet Hospital in Edmonton where, over the next three months, he had a triple pelvic osteotomy on both hips.
He spent three months on crate rest, had very limited walks, and played many mental stimulation games. Slowly but surely, Audi began to recover. He was soon able to run around the park with his friends again. Audi understands what it's like to go through surgery and major life changes. This understanding certainly helps him be gentle and empathetic towards everyone he meets. He now has a little sister called Arlo whom he loves dearly and is also a rescue dog.
"Audi gets to go in parades, visit residents at the care facilities and be at the St. John Ambulance booth at a variety of events," says Pellow. "He just loves it which is kind of surprising because when he was a puppy, he was really wary of strangers. We worked with a dog trainer and now Audi just loves people. He's changed so much and it's really cool to see."
Audi has also passed the Canine Good Neighbour test, received a medal from the Dock Divers competition and participates in the BC SPCA Paws for a Cause fundraiser annually.