Despite an announcement last week by Canada Goose, the country's best-known luxury jacket manufacturer, that it will stop buying and using fur in their products, the B.C. government continues to ignore calls by the BC SPCA, the Union of British Columbia Indian Chiefs, the Fur-bearers, concerned infectious disease specialists and Humane Society International/Canada to stop the inhumane practice of fur farming in our province. B.C. has 10 mink farms and one chinchilla farm, located primarily in the Fraser Valley.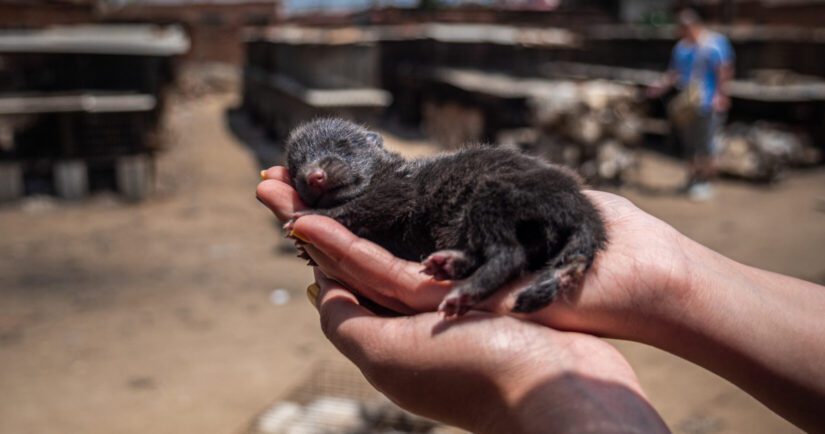 "If companies like Canada Goose can listen to the concerns of Canadians about killing animals just for their fur, why can't our elected officials listen?" asks Dr. Sara Dubois, chief scientific officer for the BC SPCA. She says the BC SPCA and other organizations are extremely frustrated by the government's lack of action, despite clear public opinion opposing fur farms. "It's 2021. This kind of inhumane treatment of animals is just not acceptable in our society today, but the government has refused to put an end to this archaic and cruel industry, despite our repeated attempts to work with them on this issue."
Dubois notes that a 2020 poll conducted by BC public opinion firm Research Co., found that 85% of the population of B.C. are opposed to killing animals for their fur. More than 20 countries around the world have already taken action to end fur farming, including Belgium, Japan, the Netherlands, and the United Kingdom, with Ireland announcing their ban just this past month.
Dubois says fur farms raise a number of concerns. "There is obviously the issue of public health – more than 400 outbreaks of COVID-19 and mutations of the virus have occurred on factory fur farms globally," she said. "There is also the outrage we've seen from British Columbians when they learned that B.C. fur farmers have access to government programs to prop up their unsustainable industry." But Dubois says the BC SPCA's primary concern remains the suffering of animals.
"Having been on B.C. fur farms and seen the conditions firsthand, I can attest that the practice is inherently inhumane and subjects animals wild in nature to treatment that no B.C. resident would ever find tolerable," says Dubois. "Mink are semi-aquatic animals who travel long distances in the wild. Yet they are confined for their whole lives in horrible, cramped cages, with no space to move, until it is time to die." She adds that the legal minimum standards that allow for such appalling care also include outdated methods to kill the animals, which causes further suffering.
"It is time for this inhumane and needless industry to end, and we urge British Columbians to contact their MLA and tell them to take action," says Dubois.
"For those who have already emailed or called their MLA, please continue to push for change. As we've seen from the long-awaited Canada Goose decision, persistence on animal welfare issues makes a difference." Learn more about what you can do to help end fur farms.