No responsible and loving pet guardian would ever want to cause their dog to suffer. But working with a badly behaved dog can be overwhelming and lead some guardians to chose a trainer who teaches by force.
It doesn't have to be this way! There are humane dog trainers out there who can get the same results using reward-based, positive reinforcement methods. The BC SPCA's AnimalKind accreditation program ensures that dog guardians can trust that a trainer will not hurt their dog using harmful tools such as prong or shock collars.
Meet the folks who have chosen an AnimalKind trainer and witnessed the positive change in their pets:
---
Izzy the Australian Shepherd puppy
Guardian: Jacqueline McDonald Trainer: Maren Bruun, Paw In Hand, Squamish
Training challenge: "Izzy is our first dog and we had no idea how to work with a fearful or reactive dog. Naively we hired a few different trainers that used an "alpha" method. A lot of the training was leaned on punishing bad behaviour, instead of rewarding good behaviour. These methods made us feel awful, they broke the trust between us and Izzy, and her behaviour only got worse."
Humane training solution: "Over the last six months we have been working with Maren from Paw In Hand. The progress we have made with Paw In Hand has been amazing. Training strengthens our relationship with our dog, Izzy is noticeably better in many situations."
From the trainer (Maren): "Force is not needed. There are always positive solutions to dog training and behaviour problems.  Look for a trainer who has tools in their tool box that are humane."
Frank the five-year-old Doberman
Trainer: Renée Erdman, Bravo Dog Training & Behaviour Consulting, North Vancouver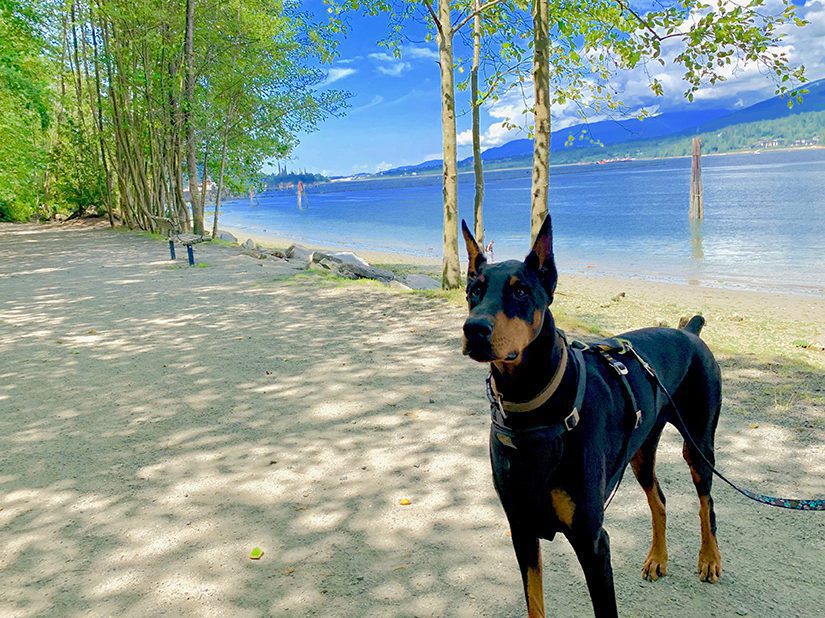 Training challenge: "Frank had poor recall skills when he was at the park and when off-leash. He would target and physically pin intact male dogs resulting in no physical damage however owners did not want to traumatize other dogs and worry as a Doberman that he will be judged more harshly."
Humane training solution: "I developed an incremental plan for recall work including the use of human food for rewards. Use of long line and progressing to off leash privileges with consistent response. Body language education: Frank indicated consistently at a great distance which dogs he was not comfortable with. He would stiffen, immediately and start to crouch down. We were able to work up to calling Frank immediately upon seeing body language changes and when taking him into unknown areas we utilize the long line. We have had zero incidents in four months since implementing the new training plan."'
Sam the two-year-old Jindo/Corgi mix
Guardian: Vanessa Lee Trainer: Lisa Davies, Pawsitively Canine Dog Training Services, Metro Vancouver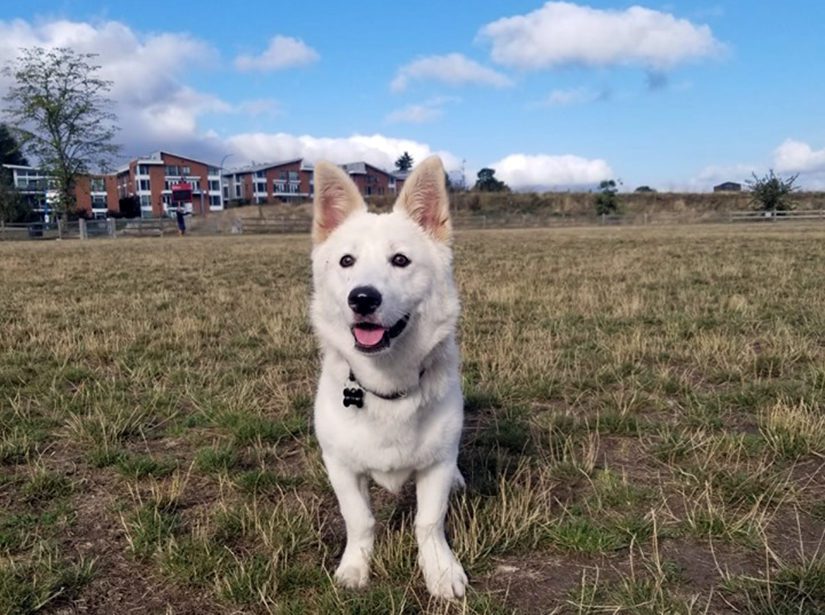 Training challenge: "Sam was resource guarding, food and toys and anything we accidentally dropped on the floor. He would also pull, whine and go bananas when would see another dog on our walks.
Humane training solution: "AnimalKind trainer Lisa Davies from Pawsitively Canine suggested teaching the 'drop it' cue. Using high value treats (chicken) and our clicker we started by saying 'drop it', clicking then treating  – when he didn't have anything in his mouth. Now he associates the cue 'drop it' with chicken and no longer fears us bending over or hands approaching his toys or food. He has stopped resource guarding.
Walks with Sam are no longer a nightmare! As soon as Sam would see a dog we would click and toss a treat in opposite direction while leading him away, clicking and treating non-stop  until dog was out of sight. Now when he spots a dog he turns and looks at us waiting for his treat, rather than reacting and pulling."
From the trainer (Lisa Davies): "All dogs with behaviour challenges need both consistency and predictability in their lives.  Sam learned that when someone approaches his "stuff", not only would it not always be taken away, but the approach would make good things happen!
The same with other dogs.  He learned that he can see them at a distance and they predict food, but he will not be forced to greet them up close, which becomes predictable and much less stressful for him.  He has amazing, dedicated owners that are working very hard!"
Aussie the Australian Terrier puppy
Trainer: Heather Fox, Proud of My Dog, New Denver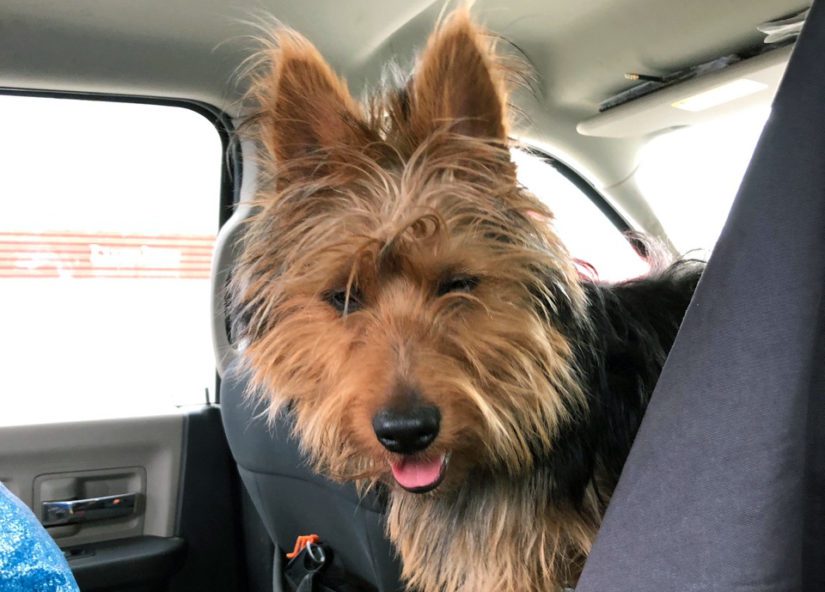 Training challenge: "Aussie knew how to get everyone's attention by grabbing things, demand barking and playing keep away. He was skilled at jumping up onto the counters to get at food left by different members of the family. Aussie might come when called and if he did he would stop just outside of arms reach. He loved to greet people at the door with great enthusiasm and jumping. Aussie didn't like being touched, definitely didn't like anyone taking his collar. If he was left inside his crate with the door closed for more than one second he would bark, whine and scratch at the door."
Humane training solution: "Aussie's family learned how to use positive reinforcement to encourage good behaviour. Aussie is now a calmer dog who loves going into the vehicle, will only demand bark occasionally, has learned that 'trade' is a profitable game to play with his people and can stay in his kennel and relax. He can walk nicely on leash and has a lovely recall where he will come right up to his people and let them take his collar!"
Oboe the Border Collie/Lab/Kelpie mix puppy
Guardian: Mike Jones Trainer: Maren Bruun, Paw In Hand, Squamish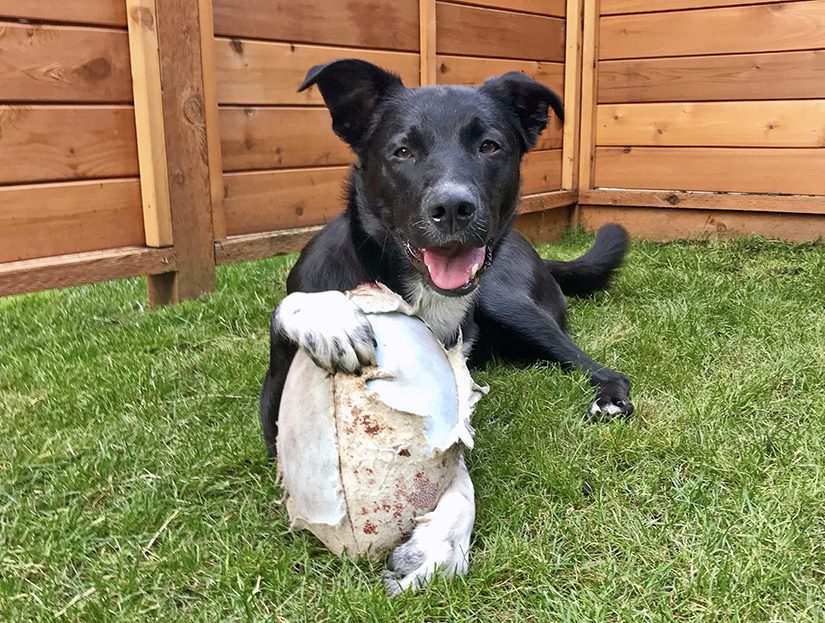 Mike Jones: "In addition to the normal challenges that come with training a puppy, Oboe was diagnosed with osteochondrosis dissecans in his shoulder at five months of age, a condition that required surgery and a long rehab period"
Training challenge: "Managing Oboe's pent-up energy in the weeks leading up to and following his shoulder surgery."
Humane training solution: "Working with our AnimalKind accredited trainer Maren, from Paw in Hand" … "provided us with practical tools to help channel Oboe's natural energy and desire to please into games and learning sessions. We have also worked with Maren to develop strategies for encouraging desired behaviour and not rewarding unwanted behaviour."
From the trainer (Maren): "Engaging your dog to want to do things with you was a much better way to work together and solve "misbehaviour" with our best friends.  Train what TO DO instead of correcting what NOT to do."
---
To build a positive relationship with your dog choose an AnimalKind Accredited dog trainer in your area who uses reward-based humane training methods.